By: Zachary Draves
There were many takeaways from the election of the century. 
Aside from the highest turnout in history, a generation of new voters rose up and saved democracy. 
Aided in part by athletes who took up the mantle of becoming active players in the sport of democracy. 
Propelled by COVID and racial injustice, athletes found more room than ever to exercise their political muscle with voting as one tool in their shed. 
In June, LeBron James launched his More Than A Vote organization that was centered on voter registration and combating the real problem of voter suppression that has a detrimental impact on black and brown communities. 
(Courtesy: The Undefeated)
It also recruited an army of poll workers to facilitate democracy in action. 
Soon thereafter, others followed his extraordinary lead as usual. 
NBA/WNBA arenas and NFL stadiums converted into voting locations throughout the course of the season. 
(Courtesy: NPR)
The organizing and mobilizing of college athletes and with the support of NBA legend Chris Bosh led the NCAA to take the major step of making Election Day a day off from practices and games, much to the dismay of some high-profile coaches more concerned with the dollar than with democracy. 
Those same college athletes also took on the role of volunteer poll workers at various locations. 
They also held rallies and posted videos on social media discussing the importance of voting such as the Duke Basketball players. 
✅ whole squad voted #vote 🗳️ pic.twitter.com/ECeZISa2sU

— Duke Men's Basketball (@DukeMBB) November 1, 2020
(Courtesy: Twitter)
Black Players for Change, organized by black MLS soccer players, registered over 95% of eligible players.
(Courtesy: MLS Soccer)
Patrick Mahomes, the best quarterback in the NFL right now, put up half of the $100,000 necessary to convert Arrowhead stadium into a voting location in partnership with More Than a Vote.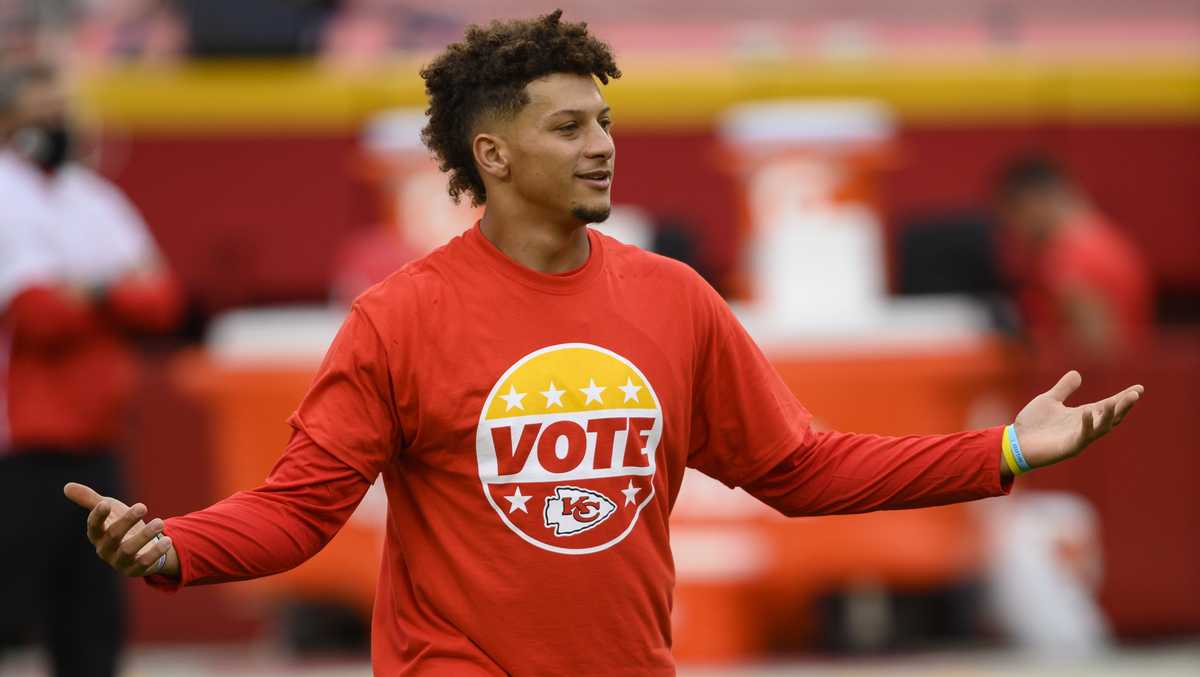 (Courtesy: KMBC)
WNBA players, the standard-bearers for athlete activism, took it up a notch as they have helped push the state of Georgia to the brink of history. 
It all started with racist and obnoxious comments made by Atlanta Dream co-owner and Georgia Senator Kelly Loeffler disparaging Black Lives Matter. 
Players on the Dream and across the league didn't take it lying down and actively supported her opponent Rev. Raphael Warnock. 
They made their endorsement clear by coming into the arena in the bubble wearing t-shirts saying "Vote Warnock". 
(Courtesy: New York Times)
(Courtesy: Black Enterprise)
Their support for his campaign lead to an increase in donations and voter turnout that has put him in a position to become Senator in the runoff election on January 5th. 
Athletes have proven that they are principled participants in the electoral process. 
It is safe to say that those efforts will only grow stronger in the years ahead because the infrastructure has been built and the energy is palpable. 
This is not a one-time endeavor, but a long-term commitment. 
The Jock Vote has now become a potent force in American politics. 
Capable of transforming the electorate from Super Bowl Sunday to Election Day.