Catching Stands Out
Among the recent inductees into the Basketball Hall of Fame, WNBA legend Tamika Catchings is the one that stands out to me.
(Courtesy: The New York Times)
Other than being a 14 year veteran of the WNBA from 2002-2016, 10 -time All-Star, 2011 WNBA Finals MVP, and a four-time Olympic gold medal winner, she stands out because of what she represented off the court.
(Courtesy: UTAsports)
Tamika has been a tremendous force for good. Being a force for good means being able to make a connection with those who are on the frontlines fighting for justice.
Activist Life
That leads to her life as an activist.
Her father was active in the Civil Rights Movement, so the seeds were planted early on for her.
Since then, she has been one of the most outspoken supporters of the Black Lives Matter movement dating back to 2016.
At that time, in the immediate aftermath of the police shootings of Alton Sterling and Philando Castile and the shootings of five Dallas police officers, Tamika and other WNBA players engaged in a public show of solidarity and a call to action.
They wore those now-iconic T-shirts that declared, "Change Starts with Us."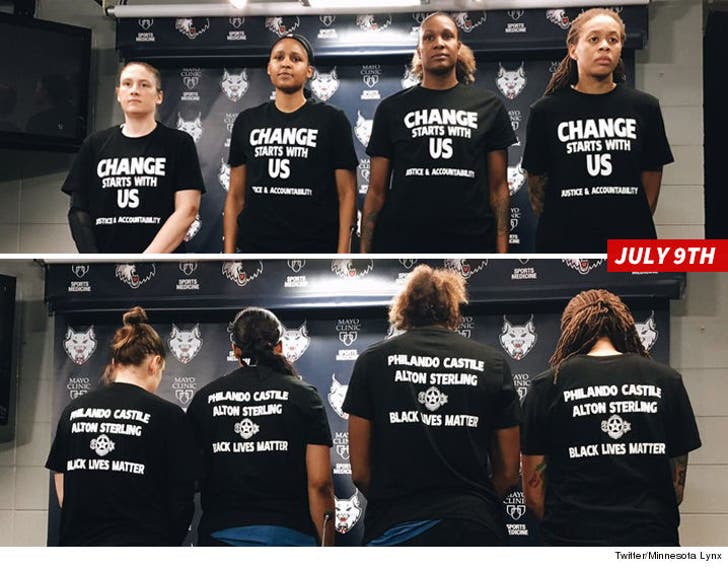 (Courtesy: TMZ.com)
From that point on, Tamika and the WNBA were at the forefront of this new era in athlete activism.
Tamika helped to organize a panel discussion on the eve of the 2016 Olympics in Rio. It was with NBA star and fellow activist Carmelo Anthony, a group of community leaders, and law enforcement in Los Angeles.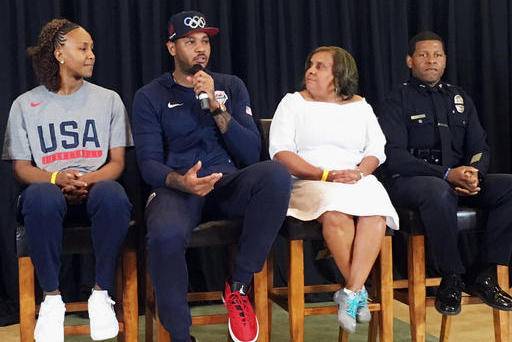 (Courtesy: Bleacher Report)
She called for the league to actively support causes such as Black Lives Matter. Just as, she argued, they support efforts for Breast Cancer Awareness.
(Courtesy: TMZ Sports)
Efforts Pay Off
Her efforts paid off. The league created the Take a Seat Take a Stand program in which the WNBA would donate $5 for every ticket sold to various social justice organizations. Among them are Planned Parenthood, It's On Us, and the United State of Women.
(Courtesy: WNBA.com)
Even more significant, that often gets ignored, is the fact that it was black women who were leading the charge.
Tamika used her public platform at a time when black women were finding their voices in significant ways.
She, Maya Moore, Nneka Ogwumike, Swim Cash, and Layshia Clarendon are to sports what Tarana Burke, Beyonce, Kamala Harris, Stacey Abrams, Meghan Markle are to social justice, popular culture, politics, and the royal family.
In other words, there has been a social, political, and cultural renaissance in every aspect of society where black women are demanding their voices be heard and their lives to be protected and validated.
Tamika Catchings is a significant contributor to that effort. That effort will go into the Hall of Fame just as much as her skills on the court.
Much respect.