By: Zach Draves
Sato Wins With Pride
The greatest spectacle in auto racing wasn't the same this time, but the tradition's spirit was alive and well.
That spirit carried over into Takuma Sato's car.
He propelled himself into victory lane for the second time in three years.
His most significant move was by making a substantial pass over Scott Dixon, who had led 111 laps.
A caution toward the end officially sealed the deal for Takuma.
His native Japan likely erupted in celebration over his victory.
He showed his support for his people by donning the Japanese flag in the victory circle.
(Courtesy: Reporter.Am)
His victory is significant not only because he is a dynamic driver but because his visibility matters just as much.
Wicked Racism
Given the circumstances surrounding COVID-19, hate incidents against the Asian community have skyrocketed.
Takuma's victory carries a significant meaning to the Japanese people and other members of the Asian community.
That was certainly true back in 2017 when he became the first Asian driver to win the Indy 500.
Peers met his moment of triumph with tremendous pride.
Unfortunately, there was a tremendous backlash as racists on social media tweeted hateful and xenophobic sentiments.
Takuma stood his ground then and now and made it clear that he is here to stay.
He is also in tremendous company with car owners, including Bobby Rahal, winner of the 1986 Indy 500, and funnyman and Indiana native David Letterman.
He is also teammates with Bobby's son Graham, who came in third.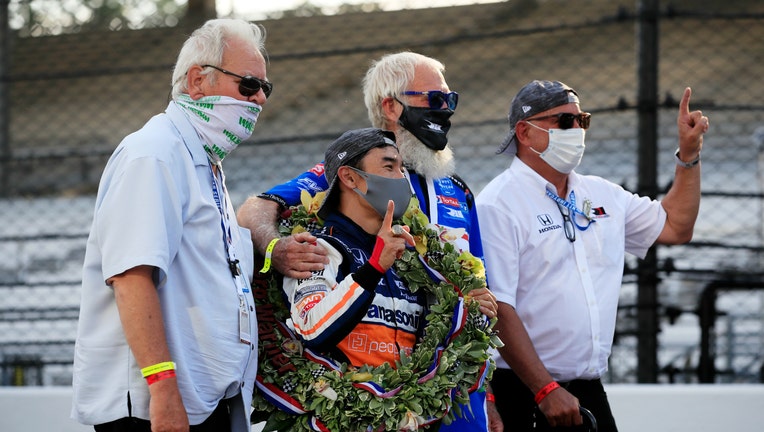 (Courtesy: FoxChicago32)
The absence of fans didn't take away from the experience of racing the Indy 500, let alone winning it twice.
"It has been tough for all of us. But to be so fortunate to show millions of people that energy was amazing. We did it for the fans. It was sad not to have fans, but we made it," he said.
He is on track to enter that unique category of drivers who win multiple Indy 500s, a list that includes A.J. Foyt, Rick Mears, Bobby Unser, and Helio Castroneves.
He is in the best hands that racing could offer.
He has got his pride in his heart and his focus on the task at hand.
Expect more in the years to come.