By: Jeffrey Newholm
The one prediction that could be counted on going into this year's NCAA Tournament was that it was going to be unpredictable. Well sure enough, a record ten double digit seeds won in the first round and on Friday a 15, 14, and 13 seed won on the same day for the first time in NCAA history. But after the dust settled the 16 teams left standing in the "Sweet 16" are all high-major teams with the sole exception of Gonzaga, who isn't exactly a no-name mid-major. If this weekend is anything like the last, however, the brackets we've already ripped apart will have to be put through the shredder for good measure. I'll take a look at each region and highlight the best stories to watch, and also predict a winner (although just to show you how good I am at predictions, Michigan State was my champion in my bracket).
Note: all probabilities based on FiveThirtyEight's projections
South Region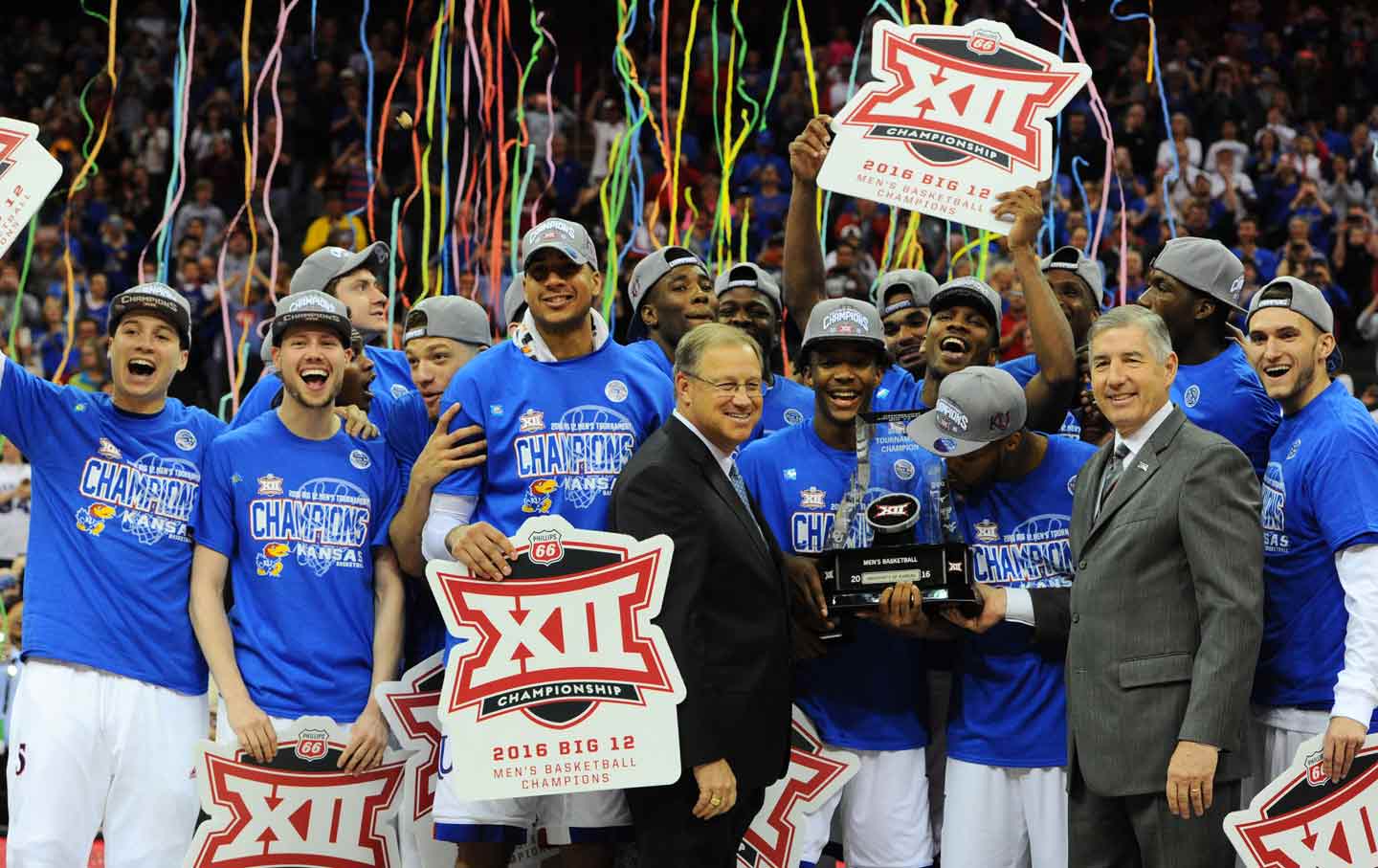 Kansas has the NCAA record for most losses on the opening weekend as a one or two seed, but this team, unlike the previous few, is laden with experience and could reasonably be expected to advance far. The team is led by three upperclassmen and Sophomore Devonte' Grahm, who all average in double figures. And the team already easily dispatched popular sleeper pick Uconn in the second round. Standing in the Jayhawks' way right now is a team with a similar profile as the last few Kansas teams in Maryland. Maryland has two of the most hyped underclassmen in the country in Sophomore Melo Trimble and freshman Diamond Stone, and as would be expected it has been an up and down season for the Terps. Kansas, on the other hand, has won 16 games in a row entering the regionals. Villanova, like Kansas, doesn't have the best tournament track record, but this year only had to beat UNC Ashville and  slumping Iowa to get to the Sweet 16 and were more than up to the task. The Wildcats, like the Jayhawks, are balanced with four players averaging double figures in scoring and are also experienced with three of those players being upperclassmen. Continuing this trend, Miami is led by redshirt Seniors Sheldon McClellan and Angel Rodriguez. The Hurricanes had to squeak by Buffalo and survive blowing a big lead to Cinderella Wichita State but managed to maintain their composure down the stretch. Experience is the key to all these teams' success except for Maryland, which follows the model of most previously successful teams in the one and done era.
My Pick: Kansas
Kansas was my regional champ going in and I don't see a reason to change now. The Hawks are strongly favored at 48% and while they've been shocked many times recently (see: VCU, Northern Iowa, Stanford), this team's senior leadership should prevent the squad from overlooking anyone. It also helps that the other teams are all high-major, high-seed teams that would be hard to overlook in the first place. Kansas has busted many, many brackets in the Bill Self era but losing this year would probably be the ultimate bracket-buster.
East Region
North Carolina may traditionally be a #1 seed, but this is not the traditional #1 seed Heels. North Carolina is 30-6 and Senior leader Marcus Paige has had a disappointing year, shooting only 39% from the field. The Indiana Hoosiers are also a big name team that's not particularly fearsome this year, earning a five seed despite winning the Big Ten and being picked by many to not get past Kentucky in the second round. But it's still a good opportunity for coach Tom Crean to get the storied program back to the Final Four for the first time since 2002. Indianapolis recruit "Yogi" Ferrell is the Senior leader of the Hoosiers, averaging a team leading 17 points a game. Notre Dame and Wisconsin both needed thrilling finishes to get to this point and the result figures to be one of the best games of the weekend as the game is a 50-50 tossup. The Irish needed to make every play down the stretch in the last minute against the upset-minded Stephen F. Austin Jacks and managed to do just that, with the finish capped by little-used Rex Pflueger's last second tip-in. The Irish are led by upperclassmen Demetrius Jackson and Zack Auguste, who both average more than 14 points a game and are trying to finish off the unfinished business from last year's run that ended one shot away from the Final Four. Wisconsin may be the most surprising entrant in the Sweet 16 considering the team started 9-9, had to endure the retirement of longtime coach Bo Ryan and had two ugly losses leading up to the Big Dance. Yet here the Badgers are yet again, now led by coach Greg Gard, who already has had his interim tag removed. The Badgers only had a 5% chance of beating Xavier late in their last game but Bronson Koenig defied those odds with game-tying and game-winning threes. Koenig and fellow junior Nigel Hayes lead the team in scoring (although Hayes is in a shooting slump as of late). With the Badger's top five scorers returning next year this Sweet 16 run at the very least gives the team valuable postseason experience for next year.
My Pick
This may not be the best Tar Heels team but they're still my pick and an even surer bet than Kansas as a 59% favorite. But this is a pick I don't make with a lot of confidence. Notre Dame and Wisconsin may be statistical underdogs but they're both teams gelling at the right time and have found ways to win close games. If the Heels let one of them hang around in the Elite Eight, I think a lot of Heels' hearts could be broken.
Midwest Region
Virginia may have lost to Michigan State the last two years but this year won't have to worry about the Spartans thanks to Middle Tennessee's shocking upset. The Cavs are led by redshirt senior Malcolm Brogdon, who averages more than 18 points a game. Iowa State is also led by a Senior; in their case it's Georges Niang, who averages more than 20 points a game. It's hard to get a handle on how good the Cyclones really are seeing as all they did to get here was blow out Iona and Arkansas Little Rock. Syracuse was a somewhat surprising pick to made the field of 68 at all and it was assumed their stay would be brief with Michigan State standing in their way in the second round. But instead the Orange had what proved to be an easy win against exhausted Middle Tennessee. Syracuse is an  unremarkable 21-13, but aren't a team to be counted as as teams unfamiliar with  Jim Boehim's zone defense often don't know how to handle it come tournament time. If Syracuse if the villain than Gonzaga is the lovable underdog. The Zags have a rich history of success but still haven't cashed it in for a Final Four. It didn't look like this was the year to get off the schneid as the team had to win the conference tournament to get in and earned only an 11 seed. Yet after two dominant upsets the team suddenly has a very real chance to reach the Elite Eight, the high water mark for the program. This run is program cornerstone Kyle Wiltjer's last hurrah, but Lithuanian import Domantas Sabonis will have two more shots at postseason glory after 2016.
My pick
Well Virginia is a 43% favorite but I can't pick chalk in every region because no way will the Sweet 16 work out exactly as planned! The other three teams have pretty much equally good chances so I'll pick Gonzaga because the Zags were probably underseeded and are playing better going into the regionals than any other team. Syracuse is lucky just to be here, Virginia has a suspect track record and Iowa State isn't anything special. Plus chalk is no fun.
West Region
Fans who just watch the tourney were probably stunned to see Oregon as a #1 seed, and the Ducks, like the Heels, aren't the best one at 30-6 and only have a 57% chance to get past Duke. The Ducks have reached the point where they're not only nationally recruiting (senior leader Elgin Cook hales from Milwaukee, Wisconsin), they're also internationally recruiting (leading scorer Dillion Brooks is from Canada). But the Ducks still need to gain the respect of fans nationwide, and there's no better way to do that than to knock off blue-blood Duke. As usual, Duke features their usual assembly of one-and-dones, but their leader is the rare freshman who came back. Grayson Allen wasn't exactly a top tier recruit, but he made a name for himself in last year's championship game and has become the Blue Devils' go-to scorer this year. Texas A&M may have been favored going into their last game, but when down 12 with less than a minute to go against Northern Iowa most of their fans were heading towards the exits. Well those fans are kicking themselves now as the Aggies went on the biggest last minute comeback in NCAA history (all games not just the tournament) to force overtime and eventually win. Lost in all that excitement is the fact the Aggies had a huge up year, winning a share of the SEC title and becoming a genuine Final Four contender for the first time in a decade. The Aggies, unlike the Ducks, believe in protecting the home turf in recruiting as their three leading scorers all hale from Texas. Oklahoma is the statistical favorite to win this region, and it's all thanks to Buddy. Buddy Hield that is, the previously impoverished Bahamian import who is the unquestioned star of the Sooners, leading the team with 25 points a game, almost twice any other player. This is Hield's last rodeo, and it's no secret he would like to finish his career in style in Houston.
My Pick
This one is easy. It's Oklahoma, and it's got nothing to do with any fancy statistics. Hield has carried his team on his back the last two games, helping the Sooners maintain their composure when facing a scare from Cal State Bakersfield and then single handily holding off VCU in a game the Sooners essentially had to win twice after blowing a big halftime lead. Hield is a special player on a special run, and while the other three teams are perfectly respectable, I just don't see Hield letting his team down now.
You can follow me on Twitter @JeffreyNewholm and our blog @NutsandBoltsSP.