My Experiences
Before I get into my commentary, I want to share some of my experiences growing up. I grew up in a NASCAR household inherited by my mother's side of the family.
I came around the time that NASCAR became a crossover phenomenon and a financial and marketing juggernaut.
Specifically, I am talking about the 1990s and early 2000s, with drivers such as Mark Martin, Bobby Labonte, Dale Jarrett, Jeff Gordon, and the intimidator himself, the late Dale Earnhardt.
My favorite was Jeff Gordon, and I adorned my bedroom with everything and anything having to do with the Rainbow Warrior.
The sport remains a part of my life, and as I have come of age, I had to reconcile some deep tensions.
An appreciation for the memories I shared with my family as a child along with the explicit and implicit bigotry that has become part of NASCAR's brand for years.
Confederate flags waving in the infield was out of sight and out of mind for me at a young age.
My youthful bliss at seeing drivers go round and round in circles at 200 mph had its share of ignorance.
An Enigma
As I began my pursuit to become actively anti-racist, I had to come to terms with the enigma of what this sport became.
I am still in the process of wrestling with those conflicts.
It wasn't until recently where I realized the sport itself wasn't rooted in bigotry or the desire to recreate Gone With The Wind.
Instead, bootleggers who used their cars to outrun the police and the KKK during the era of Prohibition founded the league.
They were more in sync with the white folks supporting Black Lives Matter than they do with the good ole boys waving Confederate flags and worshiping at the altar of racism, toxic masculinity, and Nativism.
Finding that out gave me a bit of a piece of mind, but I know that symbolic steps such as banning the flag from entering the track are not enough.
First, we must give credit where credit is due, and that is to Bubba Wallace, the only full-time black driver in the sport. He led the charge to ban the flag.
(Courtesy: NBC News)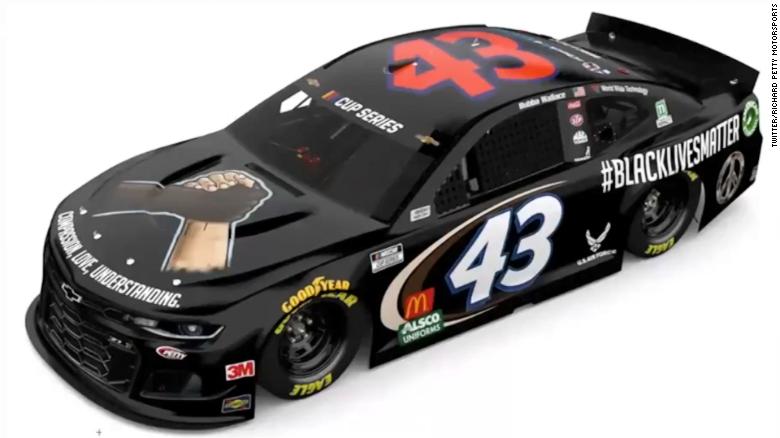 (Courtesy: CNN.com)
If it weren't for him, Dale Jr., Kevin Harvick, Jimmie Johnson, and others wouldn't have followed by putting out a video.
(Courtesy: Youtube)
It is going to take a ton of work for the sport to enter into the present day.
Structural Change
Dr. David J. Leonard, a professor of critical studies at Washington State University and a renowned expert on the intersections of race and sports, agrees.
"Symbols matter; taking down a symbol that is part of a history of racial terror and violence is important.  And given the black activists and organizers, commentators and writers, leaders and communities, have asked, requested, pushed and demanded for it to remove from all aspects of American life, it is important FIRST step.  Such statements must be followed up with structural changes; with institutional changes; with policy changes, and with cultural changes.  If this is first step, it is an important first step.  If it's the only step, then its power and potential is limited," he said.
That structural change can include:
The power and visibility of more black drivers, crew, and car owners
More sponsorships with black-owned companies
Partnerships with racial and social justice organizations (RISE, Institute for The Study of Sport, Society, and Social Change, etc.)
More significant efforts on diversity through their Driving for Diversity program
Partnering with HBCUs so students who are interested in careers in STEM could find a place in the sport.
One could add many more suggestions.
But while NASCAR is slowing dipping their toe in the water, let's be cautious and have a healthy skepticism.
As famed sportswriter Bomani Jones said on Twitter.
bottom line is nascar doesn't deserve praise for this. and if you think white folks should be praised for things like NOT ALLOWING THE CONFEDERATE FLAG, you're just gonna hate me. i refuse to be patronizing.

well, on these kinds of things i won't be patronizing. https://t.co/KCQuvnQBuH

— bomani (@bomani_jones) June 10, 2020
Wicked Opportunites Denied
We must not create an opportunity where white paternalism, patronizing, and savior complexes can flourish.
Those attitudes are an extension of the system of white supremacy, and we need to call it out.
Time will tell if NASCAR is ready for the race of a lifetime.
But the time for that race to start is now.
Drivers have to exert their power and demand for these changes and risk alienating fans.
Also, NASCAR must isolate no-talent drivers such as Ray Ciccarelli, who take pride in their racism.
Justice is more important than making people comfortable in their bigotry and ignorance.
The drivers must be on the right side of history.
So drivers, start your engines!