Moore Scores Outside Court
Maya Moore came through with the game on the line.
But we are not talking about basketball.
The WNBA legend's social justice activism scored a significant victory.
(Courtesy: NBC.com)
She helped to secure the freedom of an innocent man who has been locked up behind bars for 22 years in St. Louis.
(courtesy: The New York Times)
Jonathan Irons was imprisoned for 16 years, serving time for charges of burglary and kidnapping back in 1997.
The police charged him with breaking into a house with a loaded gun and firing shots at the occupants.
Jonathan was 16 at the time and faced a 50-year sentence.
However, evidence points to his innocence.
For instance, there was no DNA evidence linking Jonathan to the crime.
When arrested, he had no idea what the charge was.
Also, a detective coerced him into confessing to the crime.
After hearing his defense make that case, the government ultimately vacated his convictions.
Maya The Hero
His case garnered attention once Maya came to his defense.
She took off two years from the WNBA and from a potential 2020 Olympics campaign to fight for justice.
Given the history of Maya's commitment to social change, this should not surprise.
She has consistently used her platform to speak on issues.
Her first public involvement came in the tumultuous summer of 2016, after the police shootings of Alton Sterling and Philando Castile and the shootings of five Dallas police officers.
She and her teammates from the Minnesota Lynx (Minnesota was home to Philando Castile) spoke truth to power during a press conference where they called out systemic injustice and racism.
They all wore black t-shirts that were in solidarity with the Black Lives Matter movement that read Change Starts With Us.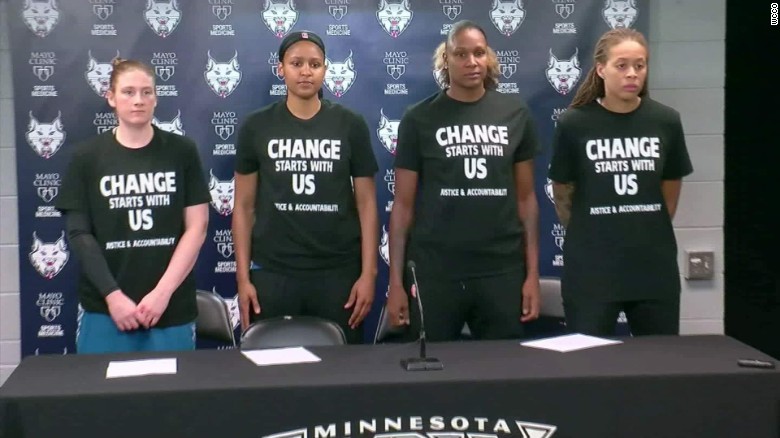 (courtesy: CNN.com)
Allegiance To Greater Good
From there, her devotion to a greater good was evident.
She spoke up about mass incarceration in America that cages black and brown bodies to enrich privatized prisons and their greedy stakeholders.
She formed an organization Win With Justice.
Maya then took on Jonathan's case and spent the last two years dedicated to his ultimate release.
This goes to show the power of the athlete.
This demonstrates the power of the black female athlete.
This exhibits the power of black women.
We are living in a unique time where black women make their voices heard in unprecedented ways.
Much of it is because of the current political climate where there is a palatable backlash to a more culturally and racially diverse society.
In other words, the rollback of civil rights protections, hate crimes rising, and the normalizing of white supremacy is attempting to stop progress.
Black Women Take Charge
But black women are taking charge and ensuring the kind of leadership that is much needed.
We see this political and cultural renaissance in every aspect of society.
We are witnessing in it in Congress, on Coachella, in Buckingham Palace, in the science labs, in the doctor's office, in the courtroom, on the silver screen, behind the camera, and on the playing field.
Black women have always been genuine leaders, and hopefully, now this country will finally start to appreciate their contributions.
Maya Moore is the athletic version of Harriet Tubman, Sojourner Truth, Mary McLeod Bethune, Coretta Scott King, Betty Shabazz, Angela Davis, Fannie Lou Hamer, and Ella Baker.
She is an unapologetic black woman committed to freedom, equality, and justice.
It was another Maya, Maya Angelou, who said that when someone shows you who they are, you believe them.
Maya Moore has demonstrated that ethos to perfection.
She is also following LeBron James's motto to the fullest.
She is More Than an Athlete.