By: Zachery Draves
"We declare our right on this earth to be a man, to be a human being, to be respected as a human being, to be given the rights of a human being in this society, on this earth, in this day, which we intend to bring into existence by any means necessary."
Powerful Words
Those are the powerful words and forceful declaration of fundamental humanity. Brother Malcolm X articulated them at the height of his presence.
Ninety-five years ago, on May 19, he came into the world. His life comprised of unprecedented trauma, loss, despair, determination, survival, and rebirth.
Fifty-five years ago, with Malcolm about to give a speech at the Audubon Ballroom in New York City, a coward assassinated him.
His death has cast a long shadow, and we are trying to come to terms with it.
So much so, that Netflix produced a groundbreaking new series that re-opens the investigation into his death.
The series is called Who Killed Malcolm X.
Others often misunderstood him, and it was only in his posthumous existence where activists put his life into proper context.
Such was the case with The Autobiography of Malcolm X by Alex Haley that became one of the most influential books of the 20th century.
(courtesy: Grinding Machine)
Also, Spike Lee's 1992 film Malcolm X starring Denzel Washington shared his life to a new generation. The new activists were especially drawn to the politics of Black Nationalism and black pride that was intertwined with the burgeoning phenomenon of hip hop in the late '80s and early '90s.
(courtesy: Amazon.com)
Touching Mentor
Malcolm has touched so many lives, including those in the sports world.
Most notably, he was a mentor to a young, brash, and dynamic fighter from Louisville, Kentucky, who was initially named Cassius Clay.
Clay was on the verge of becoming the youngest heavyweight champion in a February 1964 fight against Sonny Liston.
During the lead up to the fight, people frequently saw him with Malcolm, raising some eyebrows.
(courtesy: NPR)
At that time, Malcolm was the face of the Nation of Islam, an organization that promoted Black Nationalism and called for the separation of the races. (A contrast with the mainstream Civil Rights Movement that called for integration.)
To see a young, fresh-faced man like Clay hanging around Malcolm bothered some, but they didn't know the whole story.
(courtesy: NBC News)
Important Background
Before, during, and after he shocked the world by defeating Liston on that night in Miami Beach to become the champion, Clay transformed behind closed doors.
He was transitioning into becoming a black Muslim committed to the empowerment and upliftment of black people spiritually, culturally, and politically.
Clay had an extraordinary private meeting after the Liston fight at a motel in Liberty Heights.
Among those present were Malcolm, Jim Brown, and Sam Cooke.
One of the most potent black power leaders, a football player turned activist, and one of the most prolific and prophetic lyrical geniuses of all time gathered together in one room.
We do not know what they said.
But what we know is that the next morning, the new heavyweight champion no longer called himself Cassius Clay, but Muhammad Ali.
And we know the rest.
Black figures such as Ali were doing something liberating by changing names to embrace their African roots. They reclaimed identities White men took in 1619 when the terrors forced the first 20 Africans to the Americas.
That process began when Malcolm attached the X to his name as a symbol of the unknown.
From there, Lew Alcindor, the best college basketball player and part of the UCLA dynasty, made the transition to Kareem Abdul Jabbar and converted to Islam.
Kareem spoke about how The Autobiography of Malcolm X changed his life and his perspective on the world.
Malcolm forever established footing in the sports world from that point on.
Moving Movie
The next showing of his influence among athletes was during the making of the movie.
Spike Lee was in a bind with Warner Brothers over funding.
The bond company and the studio wouldn't put up the money to help Spike complete production.
So in the spirit of Malcolm's philosophy of black self-determination and supporting one another, he called up some of the most influential figures in the community at the time for some help.
Among those were Michael Jordan and Magic Johnson.
Each of them wrote a check out to Spike to help him complete the film.
In the ending credits, a backdrop of Arrested Development's song Revolution marinated in black pride and love. It included shout outs to Malcolm, Harriet Tubman, Marcus Garvey, and the Black Panther Party. Michael and Magic appear together in an embrace wearing those iconic Malcolm X caps and t-shirts.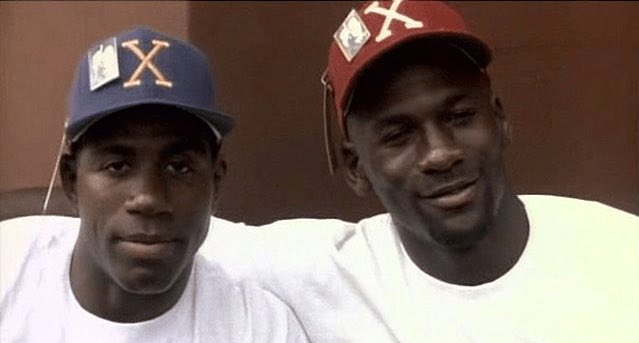 (courtesy: Twitter)
The other celebrities who helped make the film possible included Oprah, Janet Jackson, Tracy Chapman, and Prince.
Malcolm meant something special to both Michael and Magic and wanted his story told. Who better to do it than Spike Lee?
MJ the Hero
For Michael, who fans always noted for his apolitical activities throughout his career, this was arguably his first public political involvement.
This activism came at a time after fans criticized Michael for not backing African American candidate Harvey Gantt over the known racist and bigot Jesse Helms in the Senate race in his home state of North Carolina in 1990.
As for Magic, he has taken Malcolm's advice and put it into his career as a businessman.
Malcolm had called for black-owned businesses to help empower the economic conditions of black America.
Magic did just that with the creation of his famous movie theaters in places such as South Central Los Angeles, Chicago, and Harlem, which were significant successes.
He employed the people in the community, something that Malcolm would have been proud of.
Magic then took that same approach by bringing in Starbucks and Friday's restaurants into Black America and had the menu acknowledge the cultural customs of the community.
Another embraced the ethos of Malcolm: Mahmoud Abdul Rauf, formerly Chris Jackson.
He was a standout shooter for the Denver Nuggets in the mid-1990s when he made a conversion to Islam.
He also became known as the Kaepernick before Kaepernick.
(courtesy: The Undefeated)
His famous protest during the National Anthem was the subject of harsh criticism from those who didn't bother to understand it.
He saw the flag as a symbol of oppression that this country hasn't lived up to its promises.
Ture to Tradition
If anything, his statement was in the tradition of both Dr. King and Malcolm.
It was in line with Dr. King's proclamation during his Been to the Mountaintop speech on April 3, 1968, the day before his assassination. He told his congregation that America needed to stay true to its stated mission. The mission: that all are created equal.
Dr. King called out the country for not living up to its promises.
Malcolm's politics of Black Nationalism matched Dr. King's thoughts. They mixed the Muslim faith with a genuine distrust of America.
Mahmoud Abdul Rauf stayed true to his principles and is rightfully an icon of athlete activism.
His visibility also came at a unique time in black politics and culture, where more black figures were starting to publicly embrace the spirit of Malcolm and the religion of Islam.
Tide Turns
There was the 1995 Million Man March along with athletes such as Hakeem Olajuwon, Larry Johnson, Sharif Abdur Rahim, and others who were public and unapologetic about their Islamic identity.
One can easily attribute that sentiment to the influence of Malcolm.
In recent years, Malcolm's daughter Qubilah announced she was forming a clothing line honor of her father and that many NBA stars would sign-on.
And we cannot forget Colin Kaepernick, who, during his courageous public protest, would show up to games wearing t-shirts with Malcolm's image.
So it is beautiful to see the tremendous love that Malcolm X has in the world of sports and among black athletes who have taken on his principles of self-love and black pride with a strong commitment to racial justice.
(courtesy: Chicago Crusader)
His legacy is still on that evolutionary path of recognition.
Hopefully, going forward, more will come to understand Malcolm and what he stood for.
He was not a racist. He was just unapologetically black. There is a vast difference.
And we have to acknowledge that reality, By Any Means Necessary.