Only four more wins left. Four more triumphs to not only add banner number 17 for the Los Angeles Lakers but four more victories to cement this season's legacy as an all-time great. So much adversity has arrived this year, that getting back to simply just playing is a feat in its own. However, the team knows it has unfinished business. Every series victory leading up to this point is just the details of the bigger picture. A championship that puts this franchise back on the pinnacle of the basketball world. Also, a championship that puts LeBron James at the pinnacle of basketball greatness.
With a 117-107 win over the Denver Nuggets, the Lakers finally closed out a dangerous opponent this past Saturday. The team known for their heroic comebacks only gathered one win in the series.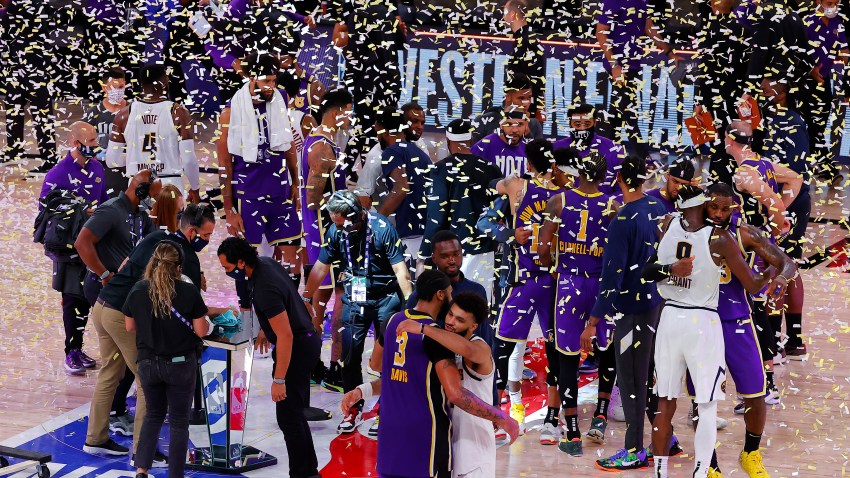 It's not a tremendous surprise the Nuggets were only able to win one game though. The Lakers allowed the Portland Trailblazers and the Houston Rockets, two supposedly challenging teams, to have a single win in the first and second round. Portland and Houston seemed especially dangerous with superstar guards Damian Lillard and James Harden at their disposal. Thankfully, those efforts prove to be futile, just like Denver's.
Witness More Than Greatness
It's not necessarily that the Nuggets were underperforming, it's mainly that King James was playing and living up to his mantras.
He shot the ball and attacked the rim with such tenacity in Game five, showing he is 'The Man in the Arena,' a phrase he puts on the side of his game-worn sneakers. The spotlight shone on him to not only get his teammates involved but to prove how he's still able to completely take over games single-handedly.
James put up an absurd stat line of 38 points, 16 rebounds, and 10 assists. But this performance felt different. It was as if James went back to his Cavalier days, where he would be the sole offensive engine for the team. He closed out the Nuggets in a way that makes you think: maybe he really is 'The Chosen One.'
Anthony Davis stated after the game, "He told us it was his time…and everybody just got out the way and let him be. He brought it home for us."
It seems like the player from Akron will be the savior of the most storied NBA franchise. Yes, having a player like Davis on his side is certainly a pivotal asset, but this is James' ninth finals appearance in the last ten years (ten overall). It's a decade of utter dominance in the playoffs, as he racks up more Finals appearances than 27 other franchises.
This is simply unheard of in the modern-day league, as no one active comes close. The most comparable player to James is Laker legend Kareem Abdul-Jabar, also with ten finals appearances.
More Than a Championship
But this success is not good enough for the 16x all-star and future Hall-Of-Famer. He knows the Finals don't mean a thing without the ring.
"Right now, it doesn't mean sh— unless I get it done…I got to get it done," James states on this year's Finals appearance.
Aside from the individual and team glory that will come with the result of a championship, this one, in particular, holds more weight for any team in recent memory.
James was at the forefront to break the city of Cleveland's 52-year championship drought back in 2016 with a series victory over the 73-9 Golden State Warriors. It was a title that meant so much more than mere glory.
He's at that state again. He is responsible for bringing the city of Los Angeles their first title in a decade and making the wait and struggles completely worth it. Also, to make a certain someone as proud as ever.