By: Henry Curi
The 2020-2021 NBA season is set to start on Dec. 22 and Jayson Tatum's game needs to take an almost MVP level jump to have the Boston Celtics as frontrunners for a title, as some of the league's greatest players are finally returning to the court.
Fans have been awaiting the comeback of two-time champion Kevin Durant from injury, as he looks to dominate the East with teammate Kyrie Irving as a part of the Brooklyn Nets. This may put yet another obstacle Boston will have to overcome in the playoffs. That's aside from other powerhouses like Milwaukee, Miami, or Toronto.
A Young Star Only Gets Brighter
Although the road to reach the finals seems tougher this upcoming year for the Celtics, especially with a virtually brand new roster, the answer starts with Tatum. The former number three pick heads into his fourth season only getting better and better statistically. Also while displaying enhanced confidence in his overall ability.
2017-2018: 13.9 PPG, 5.0 RPG, 47.5% FG
2018-2019: 15.7 PPG, 6.0 RPG, 45.0% FG
2019-2020: 23.4PPG, 7.0 RPG, 45.0% FG
These numbers may seem impressive in terms of progression, but it doesn't tell the full story. From his rookie year to this past season, Tatum has attempted eight more shots per game but only playing an increased four minutes on average between that span. The main purpose for the substantial uptick in his usage rating? Some may pinpoint it to be just the natural process of a score-first player like himself. But the main factor may simply be his consistency as the core of the franchise. A piece that has yet to be riddled with an unstable future, unlike some of his former teammates.
ESPN analyst Kendrick Perkins stated "Without those guys leaving: Gordon Hayward, Kyrie Irving, Al Horford, we wouldn't have got the chance to see the full potential of Jayson Tatum. They were just in his way and all of a sudden he took off."
Offensive Juggernaut With No More Limits
This holds validity for the evolving trajectory of Tatum and the franchise. In Irving's last season with the Celtics back in 2019, he attempted five more field goals than Tatum did despite only playing two more minutes than him. This makes sense as Irving isn't really a pass-first point guard, hence his clash with LeBron James back in his Cleveland days.
But now, there is no Irving, there is no more Hayward, another score-first talent with injury woes, to hold him back. Even Kemba Walker is dealing with his own knee issues off the court and his own stability with the team. Tatum has all the leverage to launch his game to new heights in order to compete with the absolute best.
A Franchise Player's Worth
The bubble playoffs have showcased his ability to turn it up in the postseason when it matters most. The 22-year-old averaged 25.7 points while grabbing 10.0 rebounds a night. Although coming up short in the Eastern Conference Finals, the type of performance he put on a consistent basis was enough for the Celtics to offer him a five year 163 million dollar extension. That deal could reach 195.6 million dollars if Tatum makes All-NBA in the 2021 season.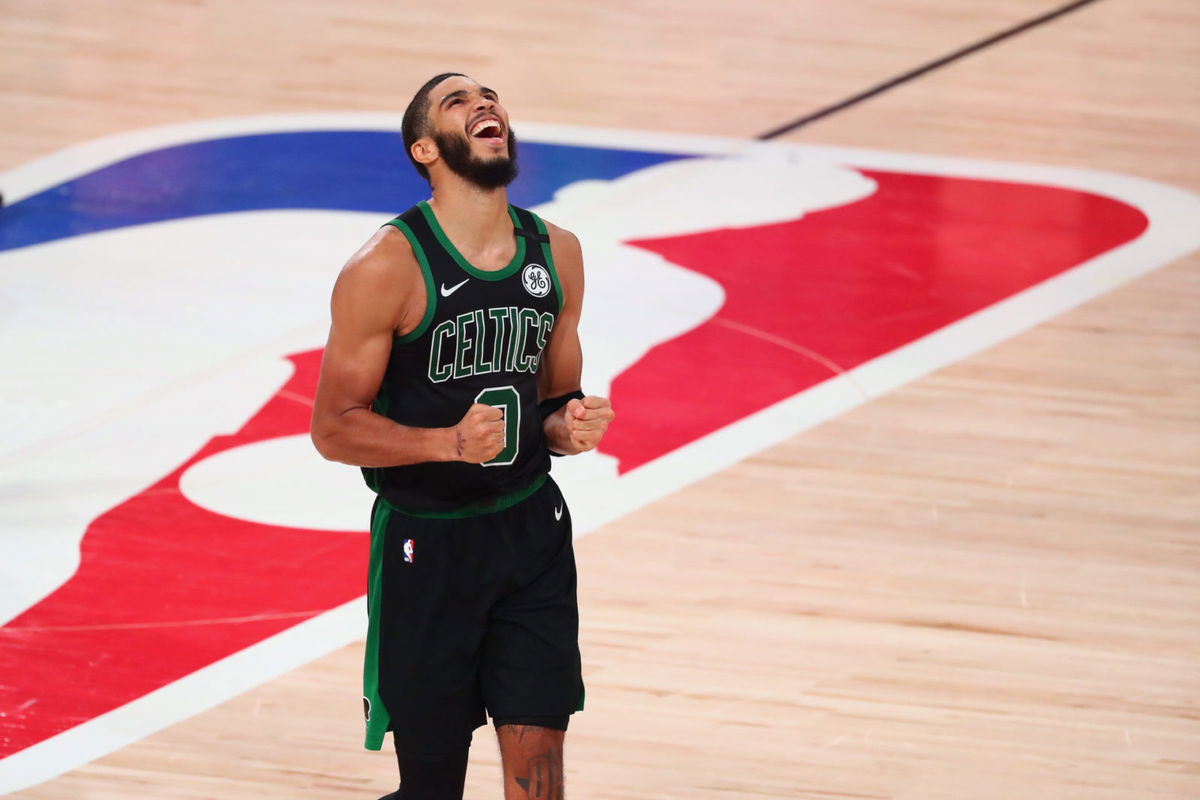 ESPN's Zach Lowe mentioned that these types of contracts signal "…what you get paid if you're a legitimate All-NBA level superstar." Not only quantifying Tatum's worth but his longevity with the franchise.
"This is the new Paul Pierce of the Celtics," Perkins stated on ESPN's The Jump, "He's gonna be the franchise guy for the next 10 years. Boston fans should be happy. They have a pure stud in Jayson Tatum. Well deserved and I feel very comfortable with him leading the franchise."
It will be interesting to see if the former Duke Blue Devil can live up to the hype. Along with breaking barriers as the season progresses. Being a top five, maybe even top three scorer in the league may not be too far-fetched soon. But those types of accolades should not deter him from the ultimate goal. The reason why the franchise drafted him and that's bringing banner number 18 to Boston.