The reason why Colin Kaepernick took a knee was caught on tape.
(Courtesy: Al Jazerra)
The reason why Malcolm Jenkins raised his fist was caught on tape.
(Courtesy: Eagle Wire)
The reason why the WNBA's Indiana Fever collectively took a knee was caught on tape.
(Courtesy: The New York Times)
The reason why Serena Williams stood up for herself at the U.S. Open was caught on tape.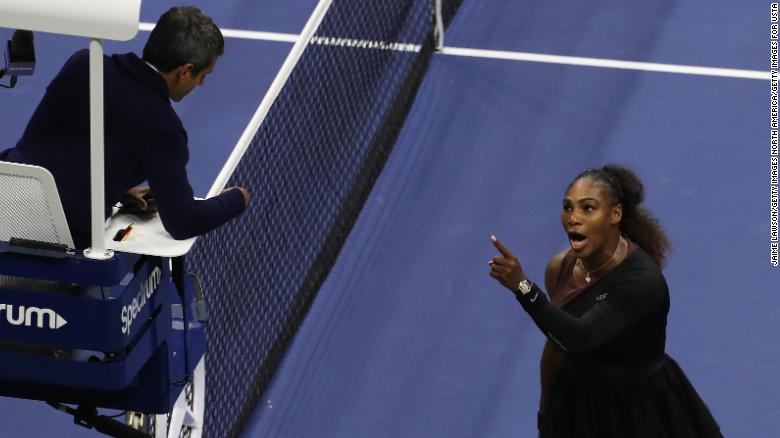 (Courtesy: CNN)
His name was Ahmaud Arbery.
Tragically, he became yet another hashtag of a black man or woman who was executed for his blackness.
On February 23rd, the twenty-five-year-old former high school football star and native of Georgia was out on a jog when a pickup truck consisting of two white men pursued him
They did one of the most American things possible, criminalize a young black man.
They somehow got the impression that Ahmaud fit the description of a suspected burglar.
Then they got in their truck armed and decided to play a game of what would George Zimmerman do?
To become a dangerous vigilante with hate in their souls.
They blocked Ahmaud's path and attempted to tackle him to the ground and then they shot and killed him in cold blood.
It was a modern-day lynching.
The tape of it was just released to the public and the prosecutors sat on it for months, letting these two white supremacist terrorist thugs run loose.
The reaction was swift and immediately struck a chord, especially in the world of sports.
One of the first reactions came from an emotional response by LeBron James on Twitter, whom Ahmaud was a huge fan of.
130K people are talking about this
LeBron's poignant commentary spoke volumes about how much pain he was in to see yet another killing.
To all those who chastise LeBron and constantly delegitimize him, namely lowlifes such as Laura Ingraham, Tucker Carlson, Jason Whitlock, and Clay Travis, where are you?
What are you saying about this? What are you doing about this?
You go after LeBron for his supposed lack of knowledge on China and you want him to stand up for human dignity when it is convenient for you?
This is exactly he and others will not shut up and dribble.
This is personal for them.
Furthermore, tennis sensation Coco Guff took to social media to voice her outrage and a call to justice.
990 people are talking about this
Something that she has long developed a passion for as she has come into her own.
Former NFL star Torre Smith echoed that call for justice.
497 people are talking about this
Given his extensive background in social activism, it is only fitting.
WNBA legend Swim Cash did her part.
31 people are talking about this
Always stays true to her word
Lamar Jackson, Cameron Jordan, and others added their voices.
The Players Coalition released a letter calling for justice.
One of the most notable names on the letter was none other than Tom Brady.
A virtual pariah outside of New England and a walking billboard of white privilege decided to do some good after all.
This is where I am issuing my call to action, specifically for other white people.
We can go out jogging, day and night, and nobody suspects us of being a criminal.
We can go pick up Skittles and Ice Tea while wearing a hoody, and nobody suspects that we are up to no good.
We can be 12 years old, go to a park, and play with a toy gun, and nobody will suspect it of being a real gun.
The litany of examples of white privilege reaches infinity.
We have to step up.
We must call out white supremacy whenever we see it.
We must support movements that advocate for racial justice, including ones led by black athletes.
Not only be a Pee Wee Reese putting his arms around Jackie Robinson, but a Peter Norman who stands in solidarity with Tommie Smith and John Carlos at the 1968 Olympics.
(Courtesy: Washington Post)
Not only be a Chris Long, who put his arm around Malcolm Jenkins, but a Kyle Korver who writes a powerful essay on white privilege and becomes actively involved in social structural change.
(Courtesy: The Undefeated)
https://www.theplayerstribune.com/en-us/articles/kyle-korver-utah-jazz-nba
The time is long overdue.
No more whitewashing.
No more avoidance.
No more "that was a long time ago."
No more "I got black friends".
No more patronizing.
No more of the white savior complex.
No more paternalism.
What is needed is love, empathy, solidarity, and justice.
(Courtesy: The Undefeated)
#IRunWithMaud