Godfather of rap
It has been exactly 25 years since complications of AIDS took the Godfather of Gangsta Rap from us. Eric "Eazy E" Wright was the frontman of the seminal hip hop group N.W.A. that brought gangsta rap to the mainstream.
Fans dubbed Eazy, Ice Cube, Dr. Dre, DJ Yella, and Mc Ren the World's Most Dangerous Group.
Their landmark album Straight Outta Compton made them immortal.
(Courtesy: Amazon.com)
Their provocative, explicit, and sometimes violent lyrics placed them in controversy. They also established a devoted following who hanged their every word.
Fans knew them well for many facts, including their outspoken and unabashed critique of police brutality. Also, note this fame came long before the images of the Rodney King beating and subsequent L.A. Rebellion in 1992 seared themselves into the collective imagination of the nation.
They were saying Black Lives Matter before it was a hashtag.
Backing Raiders
But another aspect that became synonymous with their brand was their frequent use of Oakland Raider gear.
(Courtesy: Pinterest)
We forever associate iconic Raider hats with Eazy E and N.W.A. more than the Raiders themselves.
The bond between the two is long-lasting and rooted in a shared sense of rebelliousness.
The Raiders from the 1970s and 1980s were always a contrarian team. They played with a style that was as hard edge as N.W.A.'s raps.
If anything, the Raiders were the World's Most Dangerous Team.
(Courtesy: Raiders.com)
No Compromise
They also refused to compromise on their image and their ethos, as did N.W.A.
A rebel with a cause, the legendary Al Davis, led them. His outspokenness and defiance was Pete Rozelle's worst nightmare.
The same is true with N.W.A., who Eazy and Jerry Heller led. They co-founded Ruthless Records, which capitulated the group to stardom and rearranged the music establishment more than Rock N Roll ever could have.
The Raiders were centered in Oakland, a city known for challenging the status quo and embracing radical politics destined on giving voice to the voiceless, giving birth to the Black Panther Party in 1966.
They quickly found a place in the hearts of many in O-town, and their values reflected once the Raiders took the gridiron.
Years later, that spirit translated into South Central Los Angeles. It was an area troubled by the militarized War on Drugs, police brutality, gun violence, gang violence, and rapid inequality.
N.W.A took up the mantle, and every time they went into the studio, or on stage, the people of Compton had representatives speak of their plight.
Bond Never Wavers
The bond between the two has lasted even since the passing of Eazy and has never wavered.
Ice Cube directed a 30 for 30 documentary for ESPN "Straight Outta L.A." in 2010 that explained that bond.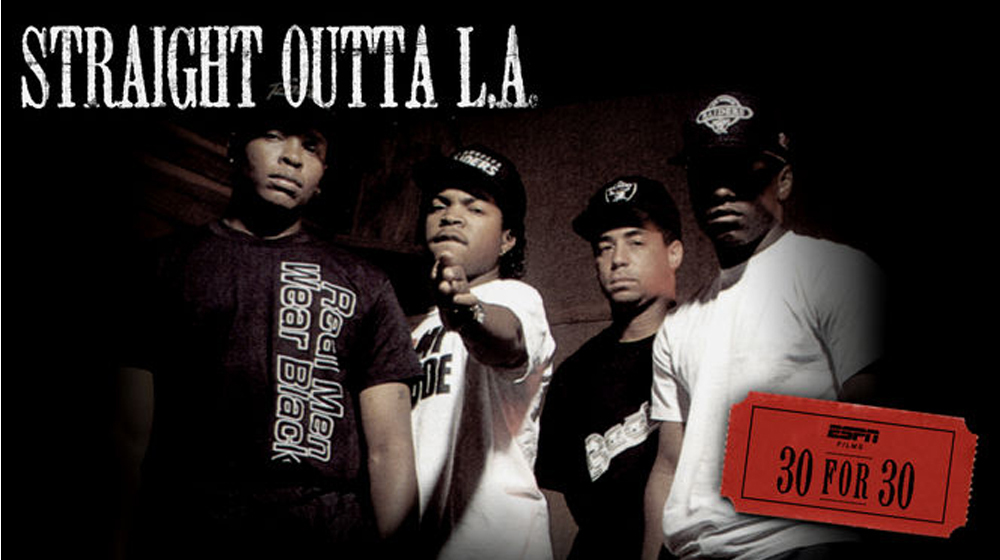 (Courtesy: ESPN)
And when Hollywood released the featured film Straight Outta Compton in 2015, Cube hosted a screening for the Raiders.
(Courtesy: Amazon.com)
It is hard to imagine that is has been a quarter-century since we lost Eazy E, but we remember his legacy in the music and vicariously on the gridiron.
Game recognize Game.