by Henry Curi
Even though Donovan Mitchell's third season came to a disappointing end, he was able to stray away from a curse that players such as Tyreke Evans and Michael Carter Williams fell victim to.
His first round against the Denver Nuggets showed the world that he's more than capable of leveling up when the pressure is at its highest, averaging 36.3 points per game throughout the series. But he needed this type of incredible productivity to prove that his rookie year isn't as good as he gets.
For players such as Evans and Williams, that was, unfortunately, the case.
Recent Post-Rookie Downfalls
Evans won rookie of the year back in 2010 as a part of the Sacramento Kings, averaging 20.1 points and 5.8 assists. He single-handedly put the Kings on the radar as a team with a young star and a bright future. But for some reason, Evans was not able to match his output showed in his rookie season for the years that followed. In fact, he progressively dropped his points per game average from 2010-2014 dramatically. As he went from averaging those 20 points to averaging only 14.5 as a part of the New Orleans Pelicans. As shortly enough, his tenure with the Kings did not last. The franchise moved on from Evans only after a few years of mediocrity.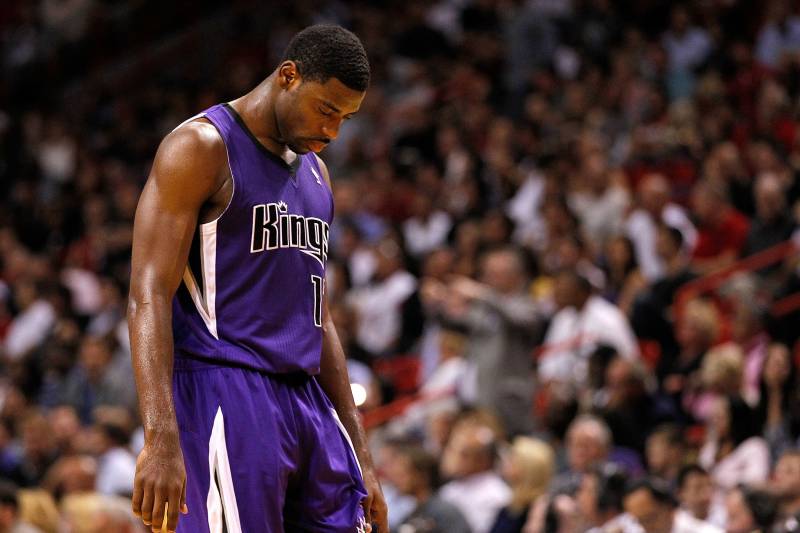 Williams started his NBA career with a dominant performance and stunning win against the Miami Heat. A Heat team that included LeBron James back in 2013-2014 season. It was such an extraordinary opener for a rookie. It made expectations for him skyrocket, as he also came out with the rookie of the year award himself. As he averaged 16.7 points and 6.3 assists that season. But just like Evans, his statistics regressed dramatically. As he went from that near 17 point average, to a sub-par 11.5 points per game at the ending of his fifth year. And he's only gone downhill from there.
Much Needed Individual Bounce Back Series
Mitchell had a similar burden on his shoulders. After eliminating the Oklahoma City Thunder in the first round of the playoffs back in his rookie year in 2018 (a team that included both Russell Westbrook and Paul George), he followed that year with a first-round exit to the Houston Rockets. Fans also saw his productivity take a huge dip in the playoffs, going from averaging 28.5 points against the Thunder to 21.4 points per game against the Rockets. It became a little alarming to see him stagnate so much already, as you wondered if he would fall down the same path as the other players mentioned. That he was just one of those one-hit-wonders.
But this year's playoffs, regardless of coming up short, proved Mitchell's longevity for not just the league, but as the leader and playoff contender for the Utah Jazz. His 57 points performance in Game 1 was just the start of his miraculous stretch. He broke a barrier that was holding back his true potential in being an absolute superstar talent, instead of just being just a B-list all-star. The guard from Louisville also became the only player alongside Michael Jordan, Allen Iverson, and Jamal Murray (2020) to record multiple 50-point games in a playoff series.
He needed this series as his coming-out party to showcase his debate as arguably a top 10 player in the league. And for good reason too. He did not want his upset against that loaded Thunder team to be the pinnacle of his career so early on. To fall under the guidelines of a rookie sensation gone south.
It seems as if catapulted his career into a new stage. One that can open up possibilities for the Utah Jazz moving forward. To be top-three seed in the Western Conference for years to come. Maybe even winning a championship during his career's actual peak. A point fans have yet to fully witness from the 23-year-old.