After more than half a decade as head coach of the Los Angeles Clippers, Doc Rivers departs. Both parties made the "mutual decision" this past Monday according to owner Steve Ballmer.
This decision may not have come as a surprise for many, especially after Rivers lost yet another 3-1 series lead in the second round of the playoffs with LA. (His first came in 2015 during the Lob City era.)
A Mentor Beyond the Game
Now, with LA searching for a new head coach to lead the team to success, Rivers leaves with many talents. Not just as capable basketball mind, but as a mentor that players and the league have learned from through his years. He's earned a type of respect garnered from his role as both a caring coach and a social advocate in the NBA bubble.
This experience may be something that the incoming candidate won't be able to match. Rivers built credibility on and off the court. To do it in the most challenging and issue-riddled season in league history is something that a lifetime of experience has prepared him for. Not only to lead this Clippers team to a deep playoff run but to be the glue for a group of guys that needed him the most.
He released a heartfelt statement on Twitter after the decision.
— doc rivers (@DocRivers) September 28, 2020
Second Round Loss Results In Heavy Burdens
However, how much of the blame does he deserve to carry? Their Game seven loss against the Denver Nuggets wasn't necessarily from insufficient coaching adjustments, rather too sloppy play from his superstar players.
Kawhi Leonard, a top ten player, only scored 14 points in the pivotal game. Teammate Paul George performed even worse, only adding ten points.
These are supposed to be perennial players who outperform expectations when needed. Hence, why LA acquired them this past offseason: to push this franchise to new heights. Unfortunately, they failed.
The duo combined to shoot 10-38 (26%) from the field that night. Regardless of Paul's struggles throughout the playoffs, this was a type of output far from expected. Especially for Leonard, who led the Toronto Raptors to their first championship in 2019.
Yes, hopes and expectations were incredible for this team. But fans forget that Rivers was the sole reason why the Clippers were still playoff contenders, even before Leonard and George's arrival.
Proven Devotion, Superstars or Not
Rivers led the Clippers to the 8th seed the season prior, pushing the Golden State Warriors to a six-game series in the first round. Remember, that Warriors team featured a healthy Stephen Curry and Kevin Durant.
He was also at the forefront of executing the biggest comeback in playoff history. As the coach for a team with no all-stars against a team full of all-stars, Rivers honed his group to come back from a 31 point deficit. Last year's Game two at Oracle Arena proved the grit and grind mantra the franchise holds.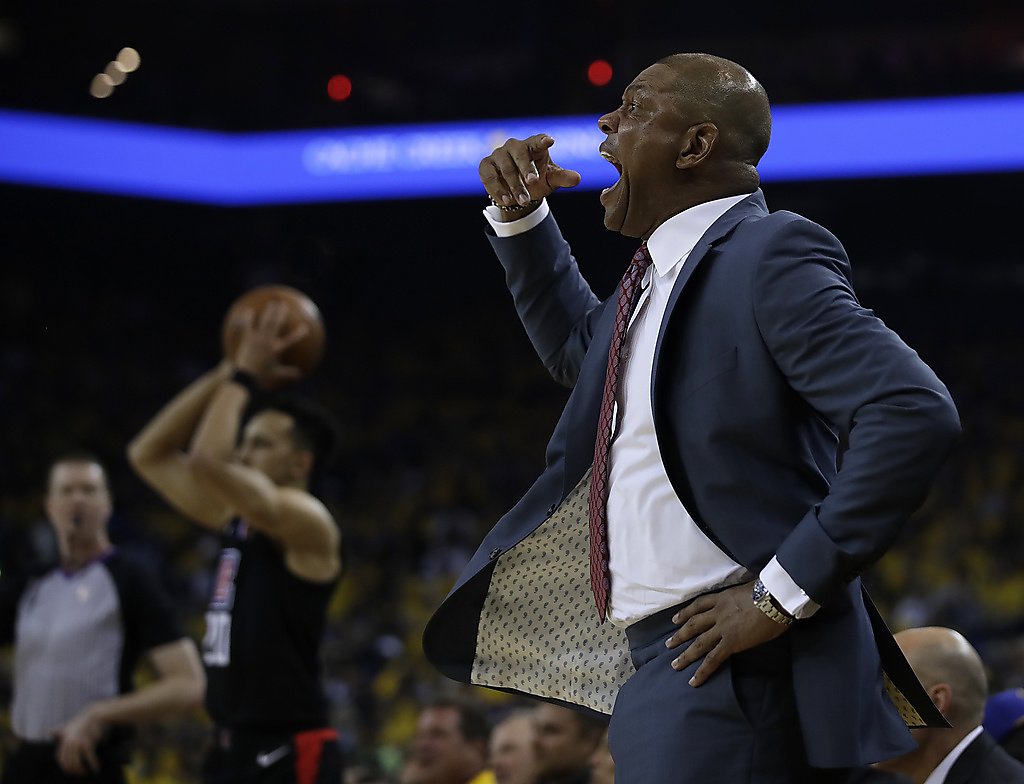 Not only did the team rely on him at the helm to stay level-headed, but he trusted his team back.
After that comeback game, Rivers said, "You just love this group. They just don't give in. They allow you to coach them, they allow you to sub them without drama." For him, fighting was the only option because, "We have to, it's who we are," he stated.
More Pressure on Ballmer
Rivers was ready from the jump, with or without superstars. He has the experience to back up his coaching. On top of that readiness, he has the drive to excel with whatever is given to him.
This season, he led the Clippers to the 2nd seed in an ultra-competitive Western Conference. Again, LA put him in an unfortunate situation that clouded his accomplishments with disappointment that Ballmer can't see through. The team's owner knows what he's leaving behind.
"Doc has been a terrific coach for the Clippers, an incredible ambassador, and a pillar of strength during tumultuous times. He won a heck of a lot of games and laid a foundation for this franchise," Ballmer stated this past Monday.
However, with a brief offseason looming ahead, there's pressure for the front office to make the right call right now. Whether that be promoting assistant coaches Tyrone Lue or Sam Cassel to the role or exploring their options on the market thoroughly.
Whichever route they decide to take, the decisions must compensate after losing seven years' worth of draft picks to accumulate this roster. The future of the franchise is unclear and more alarming than ever in such an unforgiving league. Not only do the players know that, but Ballmer as well.