By: Zach Draves
"A hundred years ago the American white men used to put on a white sheet and use a bloodhound against Negroes. Today they have taken off the white sheet and put on police uniforms and traded in the bloodhounds for police dogs, and they're still doing the same thing."-Malcolm X.
"There are those who are asking the devotees of civil rights, 'When will you be satisfied?' We can never be satisfied as long as the Negro is the victim of the unspeakable horrors of police brutality."-Dr. Martin Luther King Jr.
"Either you side with what's right or you condone what's wrong, you can't love me and not love my people." – Stephen Jackson
"Though this nation has proudly thought of itself as an ethnic melting pot, in things racial, we have always been, and we, I believe, continue to be, in too many ways, a nation of cowards"-Eric Holder
The time has been long overdue for white people to get their act together and to confront the deeply entrenched system of white supremacy.
I say this as a white man in America who recognizes the privilege that I carry and a system that is designed to benefit me at the expense of black men and women and other communities of color.
I am tired of white people sitting on their asses.
I am tired of white people posting their perceived outrage on social media, but not take the time to go out to a rally or protest or join/support a racial justice organization.
I am tired of white people engaging in the activism of convenience which reinforces privilege.
I am tired of white people saying that we have to "get all the facts", "don't jump to conclusions", or "let's take it one case at a time."
I am tired of white people saying "What about Chicago?" or "Where are all the fathers?" or "pull yourself up by your bootstraps."
Enough with the respectability politics.
All this does in keep us in a never-ending state of complacency and complete normalization of white supremacist attitudes, practices, and sympathies.
The state-sanctioned murder of George Floyd in Minnesota is not an isolated incident.
Nor is Ahmad Arbery.
Or Breona Taylor
Or Nina Pop
Or Trayvon Martin
Or Eric Garner
Or Sandra Bland
Or Keith Lamont Scott
Or Michael Brown
Or Rekia Boyd
Or Tamir Rice
Or Alton Sterling
Or Freddie Grey
Or Philando Castile
Or Attiana Jefferson
Or Amadou Diallo
Or Eula Love
The list goes on and on.
(Courtesy: Facebook)
This is why Colin Kaepernick took a knee.
The haunting words of "I Can't Breathe" coming from George Floyd and Eric Garner are why athletes wore those iconic t-shirts.
(Courtesy: Review Journal)
(Courtesy: CNN)
The one and only LeBron James once again spoke truth to power and asked "Do you understand NOW!!??!!?? Or is it still a blur to you??"
Former NBA star Stephan Jackson, a friend of George, made a powerful declaration of being on the side of justice.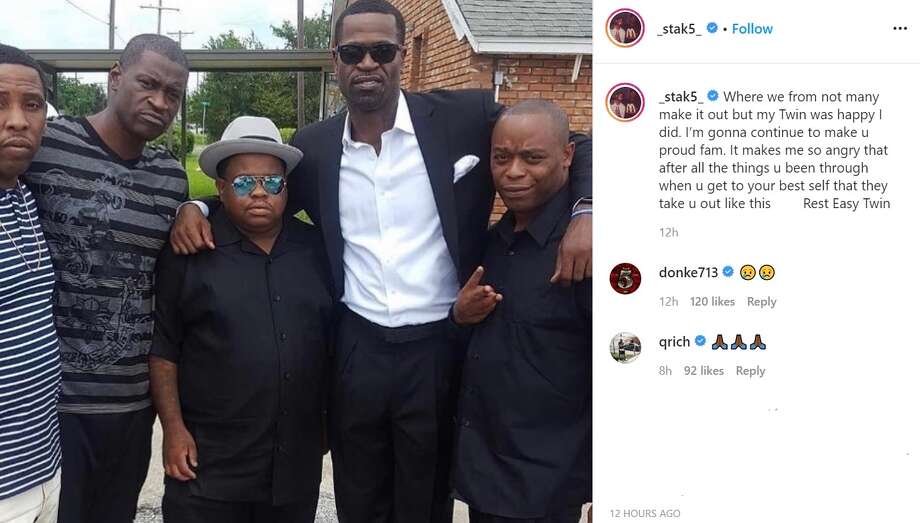 NFL stars Odell Beckham Jr and DeMarcus Lawrence spoke up.
NBA stars Jaylen Brown and Donovan Mitchell spoke up.
WNBA legend Lisa Leslie spoke up.
Even Houston Texas star J.J Watt spoke, a walking embodiment of white privilege.
The problem is that there weren't enough white athletes speaking up.
We can no longer sit on the sidelines and we need to get in the game of justice.
White supremacy has a vicious impact on all of us and it is incumbent upon those with privilege and power to step up and to engage in thorough and rigorous individual and structural analysis.
As I have said before, don't just be Pee Wee Reese putting your arms around Jackie Robinson, but be Chris Long, who not only puts his arm around Malcolm Jenkins but gives a significant portion of your salary to educational equality.
Become Peter Norman standing on the podium in solidarity with Tommie Smith and John Carlos.
Become Jack Twyman and advocate for the dignity and humanity of Maurice Stokes.
Become Kyle Korver and write about the need to combat white supremacy holistically.
There are unfortunately too few examples of white athletes actively engaging in racial justice and that has got to change.
To quote LeBron "look at yourself in the mirror and ask yourself, what are we doing to create change?"
Ask yourself that question and then do everything you can to become consistently active in racial justice.
To quote Dr. King, "the arc of the moral universe is long but it bends towards justice".
But it doesn't bend on its own.
SO WAKE  THE F–K UP AND LET'S DO THIS.
#JusticeforGeorgeLloyd
#BlackLivesMatter