By: Zach Draves
New York lost an icon at the age of 93. A man whose vision of justice and equality opened doors: David Dinkins. 
He was the first African American Mayor of New York, serving from 1990-1993. 
While history and political commentary will sum up his legacy as a public servant, what cannot be overlooked is his contributions to social justice, particularly in the world of tennis. 
David Dinkins was an avid player, fan, and supporter of the game, including serving on the board of the United States Tennis Association for twelve years. 
(Courtesy: Archives NYC)
(Courtesy: World Tennis Magazine)
As Mayor, he tremendously assisted in moving the US Open from Forest Hills to Queens as well as securing a 99 year lease for the USTA Billie Jean King Tennis Center.
That move ensured that the Open would stay in Flushing Meadows. 
He also signed legislation that enabled greater access to the National Tennis Center. 
He designed all these efforts to help increase access to the game outside of its elite country club image. 
But it was his friendship with Arthur Ashe that crystallized his support for athletes utilizing their platforms for social change. 
(Courtesy: Getty Images)
(Courtesy: The South Brooklyn Network)
Ashe Friendship
It was Arthur who inspired Mayor Dinkins to get active in the sport during his youth. 
Dinkins would go to a black country club in New Jersey to practice, play, and watch other African American players. 
From there, he found a place in a game that has historically engaged in some of the most vicious forms of white supremacist classism. 
Eventually, Dinkins and Arthur formed a strong friendship built upon a set of shared values. 
In addition to their advocacy to making tennis available to all, they were two of the strongest voices in the struggle against apartheid in South Africa. 
Apartheid Battle, to Death
Arthur used his public presence in the latter half of his tennis career to his passing in 1993 to point to the apartheid struggle. His activism included getting arrested at protests outside the South African Embassy, establishing Athletes and Artists against apartheid, and forming the advocacy group TransAfrica with fellow activist Randall Robinson. 
Along the way, Dinkins not only lent his support to those efforts, but he also signed legislation ordering New York City to divest $500 million in pension fund stock invested in companies that did business in South Africa. 
Also, he set up a system that rated companies based on their opposition to apartheid. 
Both men received praise and expressions of gratitude from Nelson Mandela himself. 
(Courtesy: New York Daily News)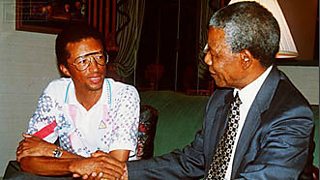 The day after Arthur announced that he had AIDS, in 1992, Mayor Dinkins appointed Ronald Johnson, who was HIV positive, as the first New York City coordinator for AIDS policy.
After Arthur's passing, the good Mayor gave a moving eulogy at his funeral where he spoke fondly of what Arthur meant to him and to the world. 
Here is a short news clip of him, Douglas Wilder, and Rev. Jesse Jackson from the funeral:
Words cannot begin to express the impact Mayor David Dinkins had beyond City Hall. 
Many describe him as a gentle soul with a strong passion for justice. 
The same can be said about Arthur. 
They held their ground and helped change the world for the better. 
Forever linked by a friendship rooted in a common cause. 
Rest in Power Mayor Dinkins.