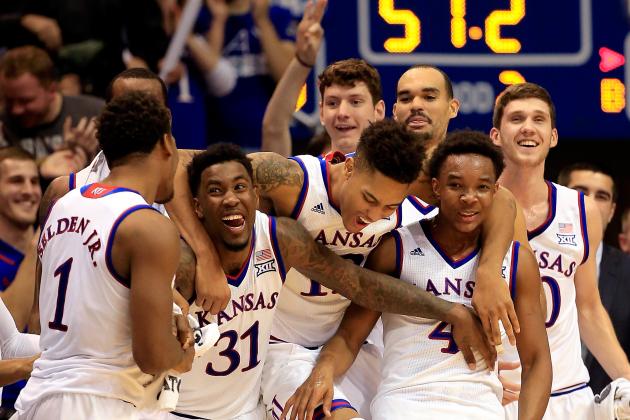 Credit: Getty Images
By: Jeffrey Newholm
For my next college hoops piece, I'd like to rank all the conferences in the men's game. And I do mean ALL the conferences—even the ones that never win a tournament game and their sole representative is in the first four. This is because I'm a big believer in giving some coverage to the little guy and not letting the big names hog all the attention. There are definitely scientific ways to rank D1's 32 conferences, such as RPI, but where would the fun in that be? I'd rather just take a stab at it myself and encourage you to second guess my fallible opinion in the comments. So here it goes, starting with #1 and working all the way down:
Big 12
When one team (Kansas of course) wins the conference 11 years in a row, it's easy to dismiss the league as weak. But at least this year that would be a huge mistake. Kansas is expected to compete for the crown again, but with Oklahoma and Iowa State both in the AP top ten as well it's not exactly a cakewalk. Oklahoma features Senior and defending conference player of the year Buddy Hield, but Iowa State is a bit more of an unknown commodity with former Murray State coach Steve Prohm replacing Fred Hoiberg. Baylor and West Virginia should be solid teams as well, with Oklahoma State and Texas being good bets to at least make the tournament. That means 70% of the conference should be in the big dance, with the potential for three teams to be top eight seeds. If Kansas is to continue their streak, they will have to fight for it this year.
ACC
I don't want to say too much about the ACC here after already writing a lengthy preview of it, which I encourage you to read by clicking here. Here's the reader's digest version: Duke, North Carolina and Virginia are top 15 teams, Notre Dame and Miami are also contenders and Louisville and Syracuse are potential sleepers. The only thing holding the ACC back is it's  top-heaviness as there are many teams at the bottom who are not legitimate contenders.
Big 10
Expectations are high for Maryland, who has a hyped recruiting class and returns star Melo Trimble, and Michigan State, who is always a contender under Tom Izzo. There was also a lot of anticipation for Indiana and Purdue, but Indiana had two upset losses this week while Purdue hasn't really been tested yet. What really hurts the Big Ten is that Michigan and Wisconsin, two historically powerful teams, are expected to be quite a bit down this year and Ohio State picked up unthinkable losses to UT Arlington and Louisiana Tech at home. Number three is still pretty good, but a conference needs more than two or three good teams to be number one.
Pacific 12
After a few years of being so down there were no at-large candidates in the entire conference, the Pac-12 is back up with three teams with legitimate chances to play deep into March. Arizona, who spent a few years being down themselves, is back in the top 15 and looking to take the next step after back-to-back elite eight losses to Wisconsin. Oregon also lost heartbreakers to the Badgers the last two years and is looking to make the hoops program more relevant on a football-crazed campus. Meanwhile at Cal, expectations are much higher after landing a couple of big recruits, but there have already been some growing pains (namely an unexpected loss to San Diego State). Throw in Utah, Stanford and UCLA and the result is a solid high-major conference. The only thing missing is a lack of multiple elite teams at the top.
SEC
Not much needs to be said in defense of Kentucky, the #1 team in the country who blew through the conference without a single loss last year.  No one else in the SEC figures to be at the Wildcats' level this year, but there are a few decent teams. The biggest player to note is freshman phenom Ben Simmons at LSU, who has been electric so far and figures to be a top five pick in the draft. LSU needs other players to step up behind him though, considering they just suffered back-to-back upset losses. Texas A&M and Vanderbilt are ranked at the moment and the Aggies do have a statement win over Gonzaga, but the SEC still has a ways to go before it becomes elite.
Big East
The old Big East was a power, having years where multiple teams went to the final four or were #1 seeds. Now that the conference is split in two, the Big East just isn't the same. Villanova and Xavier are the only two ranked teams at the moment, and the only other teams worth mentioning are only notable for what they did in the past (Butler and Georgetown) or what they may do in the future (Marquette with a great recruiting class). The biggest player to note is Kris Dunn of Providence, who is widely considered a national player of the year candidate. Other than Dunn and Villanova, there isn't a lot to get excited about in this conference anymore.
American
The American conference is the other conference left over from the old Big East's demise, and it's not that much to holler about either. SMU is talented enough to win the conference, but that's all the Mustangs have to play for this year after being banned from postseason play by the NCAA. UConn and Cincinnati are the only two teams that are ranked, and the huskies may not be for long after picking up back-to-back losses this week. Tulsa may be a team to watch after they knocked off Wichita State, but with the shockers picking up numerous losses since then it may not be as impressive a feat as it first appeared.
Atlantic 10
The Atlantic 10 may not have any ranked teams at the moment, but it's still the most balanced mid-major conference. VCU may be in a transitional year after the departure of coach Shaka Smart, but there are other teams to keep an eye on. Dayton is trying to build off last year's campaign where the flyers won two NCAA tournament games, while George Washington pulled off one of the young season's biggest upsets by knocking off Virginia. Defending champ Davidson has loads of young talent and is definitely one of the mid-majors to watch in the coming years. There's no power at the top this year in this conference, but that's made up for with plenty of decent teams competing for the title.
West Coast Conference
Gonzaga is obviously the biggest team to note here considering they've won the conference fourteen of the last fifteen years. BYU and Saint Mary's have legitimate chances to defeat the Zags, but probably not dethrone them. There's not much positive to say about the other seven teams in the conference though, so the WCC gets knocked a notch below the A-10 despite having a better team on top.
Credit: The Gazette
Missouri Valley
The Missouri Valley conference is probably the quickest to come to mind when one thinks about mid-major conferences, but it's a bit low on this list due to an inauspicious start by the Wichita State. The shockers are off to a, well, shocking 2-4 start, but to make up for it Northern Iowa recently upset the #1 ranked Tar Heels. There's more to a good team, or a good conference, than one big win however (and it should be noted that Marcus Paige didn't play). The other eight teams in the conference would probably have to win the conference tournament to get in, meaning Wichita State and UNI would both have to get upset. Illinois State almost pulled the feat off single-handedly last year but is also off to a 2-4 start this year. The Missouri Valley is certainly one of the premier mid-major leagues, but it could be even better if the Shockers get their act together.
Mountain West
Historically strong San Diego state does have that big win over Cal, but to balance that out they lost to Arkansas Little Rock and are not currently ranked. Colorado State and Boise State could potentially make the tournament, but the other teams don't figure to be contenders (New Mexico finished with a losing record last season).
Mid-American Conference
Buffalo did well enough last year to win the east division and the conference tournament and earn that dangerous #12 seed in the big dance, but they were unable to pull the upset. Making it back won't be easy as they were only 12-6 in the MAC last year and not winning the division would make it much more difficult to win the tournament (division winners get a bye to the semifinals). West champ Central Michigan was relegated to the NIT last year but had the same conference record as the bulls and only lost the title game by five. There's plenty of parity in the MAC, but maybe too much as it's unlikely anyone will get a resume good enough for an at-large bid.
Horizon
Much is expected from Valparaiso this year, who I listed as one of the top mid-majors to watch.  UW-Green Bay has been right in the mix the past few years but still hasn't broken through to make the big dance. Oakland Michigan is considered a sleeper pick behind Junior Kahlil Felder, who is averaging 24 points a game so far this year. Valpo has a small chance to get an at large bid should they slip up in the conference tournament (now held in Detroit), but most likely none of the other contenders.
Ivy
All Yale needed to do last year to make the big dance for the first time since 1962 was beat middling Dartmouth—and of course they fell apart at the end and then lost to Harvard in a one game tiebreaker. Now the Bulldogs will have to start from square one as they try to dethrone Harvard, the four time defending champ. The distinctive thing about the Ivy is the league does not hold a conference tournament, so the teams that fall out of the race early won't have a chance to right the ship later.
Conference USA
From this point one all these conferences are almost certainly one bid leagues. Conference USA used to be dominated by coach Cal and Memphis, but with both gone there's lots of uncertainty over who will take the crown. Last year UAB upset Louisiana Tech in the conference tournament then stunned the nation by knocking off Iowa State in the big dance. Old Dominion and Louisiana Tech were both considered good enough for the NIT despite losing in the conference tournament, so those two schools in addition to UAB are the biggest teams to watch for in this conference.
Ohio Valley
Last Year Murray State went 16-0 in the conference and 27-5 overall, but they still didn't make the tournament because they lost to conference rival Belmont by one in the conference title game. Belmont has been a trendy sleeper pick for years but still hasn't broken through for an upset win. Belmont and Murray State are established mid-major powers, at least in the regular season, but the Ohio Valley can only climb so high with the other teams ranging from bad to very, very bad.
Summit
South and North Dakota State are actually pretty decent by the standards of teams in this part of the ranking. Granted N.D. State was a 15 seed last year, but they only lost to the second seeded Zags by ten. The two played a one point thriller in last year's Summit title game, and there could be more fireworks between them this year as they compete at the chance to play big time spoiler in the NCAA tournament.
Big West
The Big West, consisting of mid-majors teams in California, really isn't so big considering there aren't any at large candidates or even recent upsets in the big dance. UC Irvine did come very close to knocking off Louisville, but they finished three games behind UC Davis and would likely have to go on another Cinderella run in the conference tournament. For the "Big" West to gain some notoriety, they need their champion to make some noise in the NCAA's.
Colonial
Fourteenth seeded Northeastern may not have seemed like a very imposing champion—until they nearly knocked off Notre Dame in the first round. It's hard to figure their chances of doing it again considering they lost to Miami Ohio and then upset fifteenth ranked Miami Florida. It's not a guarantee the Huskies will make it back considering they finished in a four way tie for first with William & Mary, James Madison and UNC Wilmington. The Colonial should be a fun conference to watch for a die-hard fan of mid-majors.
Credit: USA Today Sports
Sun Belt
Georgia State may not have made many headlines when they won both the regular season and postseason Sun Belt titles, but they certainly did when they knocked off third seeded Baylor with a three at the buzzer. But last year the Panthers needed to squeak by Louisiana Lafayette and Georgia Southern just to make the NCAA playoffs. If they want to build off last year's feat, they may have to get past some more tough games in the conference tourney to do so.
Southern Conference
This conference would be quite a bit further down were it not for that tower of power Wofford. The 28-6 Terriers represented the conference well, earning a twelve seed and coming very close to pulling off the first-round upset. But had the Terriers lost to last place Furman in the conference title game, it would have been tragedy for the SoCon. For the conference's own good there can't be an unthinkable upset in the conference tournament or the champ could be a very high seed.
Metro Atlantic
When the third best team in the conference loses as a sixteen seed in the first four (Manhattan), that doesn't bode well for the conference's reputation. To make matters worse defending regular season champ Iona already lost by 25 to Valpo. The MAAC really isn't very good—and we still have ten conferences to go! It's already shaping out to be a zany year in college hoops but there's still a big gap between the haves and have nots.
Southland
The Southland is another team not too far down thanks to one decent team, in this case Stephen F. Austin. After that it's, "look out below!" The Lumberjacks are coming off back-to-back 29+ win seasons and decent showings in the NCAA tournament. But much like the Southern, if the Jacks were upset, the champion may be sentenced to the first four.
American East
Continuing the trend, Albany tore through the conference last year at 15-1, won the conference tournament and earned a #14 seed—more than a lot of these conference champs can say. The Great Danes are off to a good start this year too, having just completed a 34 point rout of Yale. The Danes are similar to Georgia State in that it took nail-biting wins in the conference tournament to punch their ticket to March Madness. At least we can say that the right team with the right matchup out of the American East could win a game.
Patriot League
The Patriot league is certainly the most patriotic league on this list with American, Army and Navy all calling the conference home. But unfortunately teams are ranked here on basketball ability, not patriotism. Last postseason Villanova was a trendy pick to go down very early in the tournament. They beat Patriot champ Lafayette by 41. But the league gets a mulligan here as Lafayette was the #4 seed in the conference tourney.
Atlantic Sun
One could argue the Atlantic Sun should be a bit higher on this list considering that Florida Gulf Coast's dunk city team became the first team to advance to the sweet sixteen as a fifteen seed a few years. My answer to that is 1) one good team does not a conference make and 2) this is a completely different Eagles team we're talking about today. Last year FGCU finished second behind North Florida, and then lost to South Carolina Upstate in the Atlantic Sun tournament before they could even get a rematch with the Ospreys. To top it all off North Florida lost to Robert Morris in the first four.
Big Sky
The race for the Big Sky title should be exciting with Eastern Washington and Montana sharing the crown last year and Sacramento State and Northern Arizona only a game back. Problem is those four names don't exactly strike fear into opponents' hearts. Tourney champ Eastern Washington did earn a thirteen seed, but they were unable to beat frequent mid-major punching bag Georgetown. It should be also be noted that no one outside of those four teams had so much as a winning record last year.
Big South
I've been dissing a lot of these cellar-dwellers, so allow me to make up for it by saying something nice about the Big South: each of the last two years Coastal Carolina has acquitted themselves very well in opening round losses. As sixteen seeds.
Northeast
The most exciting thing that happened to the NEC was Robert Morris upsetting Kentucky in the NIT. Last year, however, the sixteenth seeded Colonials found pulling an upset in the NCAA tournament is quite a bit tougher. And they had to play in the first four to even get that opportunity. It also doesn't help that only four out of ten teams had winning records.
Western Athletic
Yet again last year an O.K. team (in this case New Mexico State) tore up a very weak conference. Last year the Aggies went 13-1 in Conference and the second place teams were FIVE GAMES BACK! The 15th seeded Aggies then were blown out by Kansas, another team prone to early round upsets. The WAC desperately needs someone to get at the Aggies' level, which really isn't that high in the grand scheme of things.
Mid-Eastern Athletic
The MEAC was similar to the WAC last year in that there was little parity. North Carolina Central went 16-0 in conference and the next closest team was 12-4. The big difference is in the MEAC the unthinkable happened and the Eagles lost in the conference semifinals. So instead of the conference's best team representing the MEAC in the big dance, sixth seeded Hampton made it in with a losing record. A team with a losing record won the conference. Does anything more need to be said?
Southwestern
We've made it to the bottom of the barrel. The worst of the worst. And after these last seven or so conferences being what they are the SWAC must really be something. While I may have been having some fun at the expense of the lesser d1 conferences, I do want to emphasize that these kids work, play, and study hard. They have nothing to be ashamed of—they just aren't as athletically gifted as the kids from the top conferences. But what makes the SWAC so bad is that in each of the last two years there have been multiple postseason ineligible team that were allowed in the conference tournament anyways. The SWAC was faced with a crisis in 2014 when four such teams were allowed in despite low academic progress rates and there was a danger of the league not getting any bid. The NCAA stepped in and said that going forward, should such a team win the conference tournament, the eligible seed that advanced the farthest would earn the bid. So last year Texas Southern had clinched an NCAA berth—before they even stepped on the court against ineligible Southern. The athletes from the SWAC are not good enough to go pro, so one would hope the coaching staffs would at least ensure the student-athletes are getting it done in the classroom to avoid this mess.
P.S. I am happy to report that with NJIT joining the Atlantic Sun this year, all 351 D1 teams are in a conference. This means that everybody has some hope of making the big dance, and I don't have to figure out what to do with independents.
You can follow me @JeffreyNewholm.
Be sure to follow @NutsAndBoltsSP and @bucketsanddimes for more sports updates.