By: Zach Draves
They called him unpatriotic.
They called him a distraction.
They called him anti-American.
They called him a communist.
They burned his jerseys.
They torched their Nike gear that they will never get a refund on.
They mocked him.
They called him an SOB.
They said, "he's not a good quarterback" as if they all knew what it took to be one.
They said that he was disrupting "their" football game.
And it turns out; he was right all along.
The protests over the murders of black men and women Ahmad Arbery, Breona Taylor, George Floyd, and Tony Mcdade by police and white vigilantes have re-galvanized the already ongoing fight racial justice and radical systemic reform.
In the midst of all this was a stark reminder of why Colin Kaepernick took a knee during the national anthem in 2016.
(Courtesy: USA Today)
He made it crystal clear from the beginning that his courageous act of civil disobedience was about unarmed black men and women being gunned down indiscriminately in the streets by officers of the state.
"This country stands for freedom and justice for all, and it's not happening for all right now," said Kap back in 2016.
Those words are as damningly valid today as it was then and frankly as it was since the first twenty slaves were shipped to this continent and forced into indentured servitude in 1619 in Jamestown, Virginia.
Kap not only made his case but also backed it up with action.
From starting his Know Your Rights camp to him starting a relief fund for black communities disproportionately impacted by COVID-19.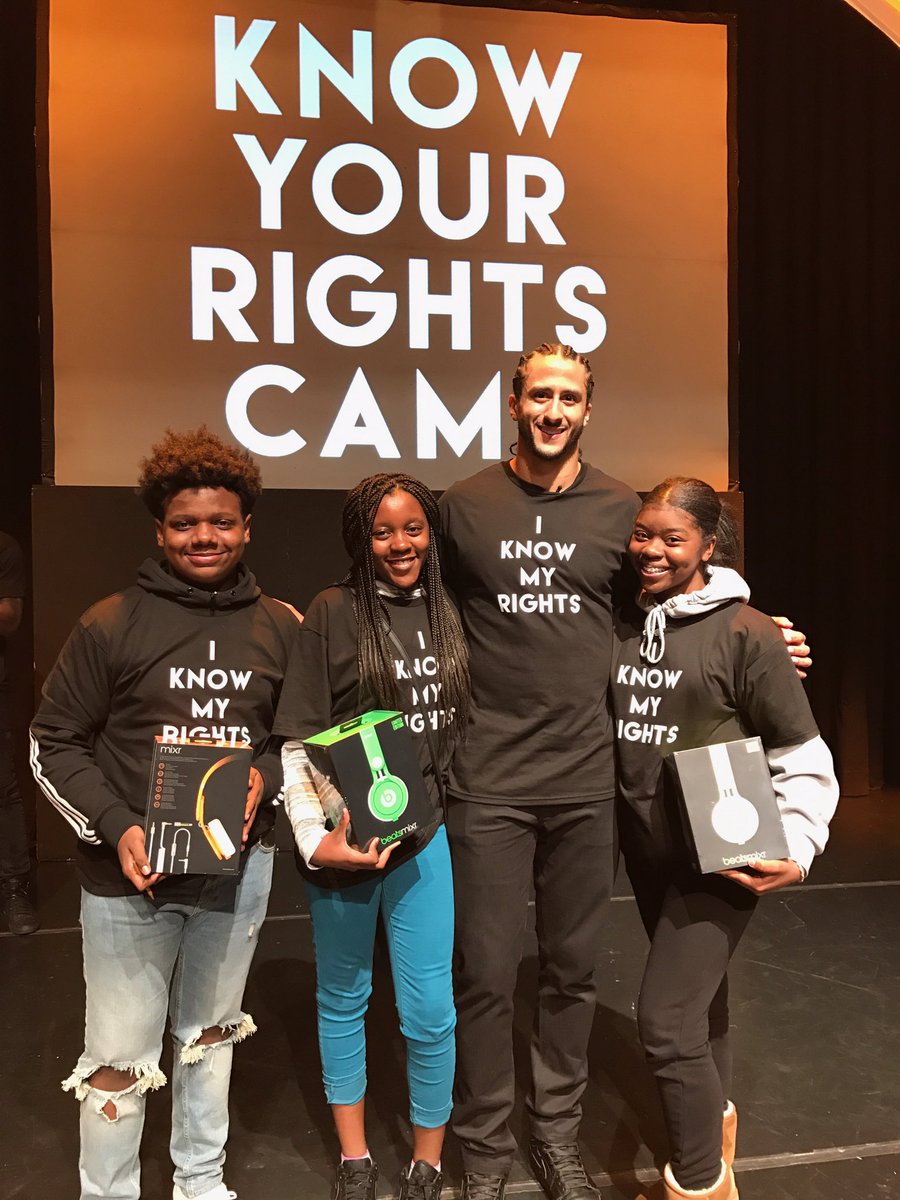 (Courtesy: The Shadow Leagues)
(Courtesy: Daily Mail UK)
To him, creating a unity with indigenous communities to him starting a fund to bail out protestors in jail.
(Courtesy: Native News Online)
https://www.knowyourrightscamp.com/legal
To him donating his old suits to former inmates for job interviews to him providing food for homeless folks in the Bay Area.
(Courtesy: Mashable)
(Courtesy: The Hill)
The sight of protestors taking a knee has become a symbolic act in accordance with one of the highest traditions of American society, the right to assemble and the right to protest.
(Courtesy: LAist)
It is today's equivalent of black-gloved fists raising in the air in solidarity with the struggle.
Kap's stance and subsequent blackballing from the NFL compelled other athletes to follow his lead and to become more actively involved in the fight for social justice.
The sight of numerous athletes speaking out and joining and, in many cases leading protests in cities across the country are a direct connection to what he started.
In some ways, it can be attributed as an homage to him.
The action taken by athletes is nothing short of genuine and sincere, and for many, it is personal.
Just as Stephen Jackson.
The NFL's response is as pathetic as of the so-called leadership of its commissioner.
They had the gall to put out a statement to offer condolences along with these empty words that the league was "committed to continuing the important work to address these systemic issues together with our players, clubs, and partners."
The question is, when have they ever done that?
They had a perfect opportunity once Kap began his protest to lead the way on actually being a part of the solution and not the problem.
Instead, they chose to force Kap out of the league to please greedy and disgraceful owners such as Jerry Jones, Dan Snyder, and Bob McNair as well as a small but rabid fan base that frankly relishes in seeing black bodies destroyed for their amusement.
They also gave players $90 million to form the Player's Coalition, which is a player led movement advocating for racial justice, as hush money.
In other words, we will "support" your cause, if you stop kneeling.
The NFL cannot be trusted.
After all, this is the same league that covered up the horrible physical and mental effects of playing a very dangerous game and denying former players adequate support for their scars.
They also brushed under the rug the scourge of domestic violence among its players and instead allowed for such players to quickly return to the gridiron.
This is also a league that has only three black coaches and two black general managers.
If one thoroughly examines the pathologies of American society and culture, that being racism, sexism, toxic masculinity, and militarism, the NFL not only embodies but embraces those perfectly.
So it should be no surprise as to why this league is so popular.
More the NFL's gross hypocrisy is well documented in Jemelle Hill's piece in The Atlantic https://www.theatlantic.com/ideas/archive/2020/06/nfls-amnesia-just-like-americas/612505/
The movement for Black Lives is not and has not gone anywhere.
It is only going to get stronger.
The long-overdue conversation on the legacy of race in America can no longer be shunned or dismissed.
Justice will be served one way or another.
If the NFL and America genuinely want to "woke" itself, they can start by acknowledging that they should have listened to Colin Kaepernick.
(Courtesy: CNN)
But I wouldn't count on it.
But those with good conscious should still do so.
Kap, you were right, and we were wrong.
We are sorry.