By Henry Curi
Orlando, FL — As the Los Angeles Lakers win Game 4 in a tight 114-108 contest, the Denver Nuggets find themselves in another 3-1 hole. The world has witnessed their unbelievable comebacks the last two rounds, but can they do it one more time against a dominant and momentum-driven LA squad?
Nikola Jokic struggled, only putting up 16 points and four assists in 36 minutes of play. Although his efficiency from the field shows on paper, this isn't near the all-star level productivity he's used to pouring out in critical moments. To stay alive in this series, Jokic needs to continue being as aggressive as possible versus a tough Lakers defense.
Jamal Murray was playing like his usual self in this postseason, spectacular. Even though he dropped 32 points on 60% shooting, he relied on some extremely difficult shots to fall. Yes, his talent is sufficient to make those types of attempts, but it can't be his go-to. He swings himself into many isolation plays that can become easier with a simple screen from one of his bigs. Not only will he find many more open shots in the perimeter, but more high percentage looks as well.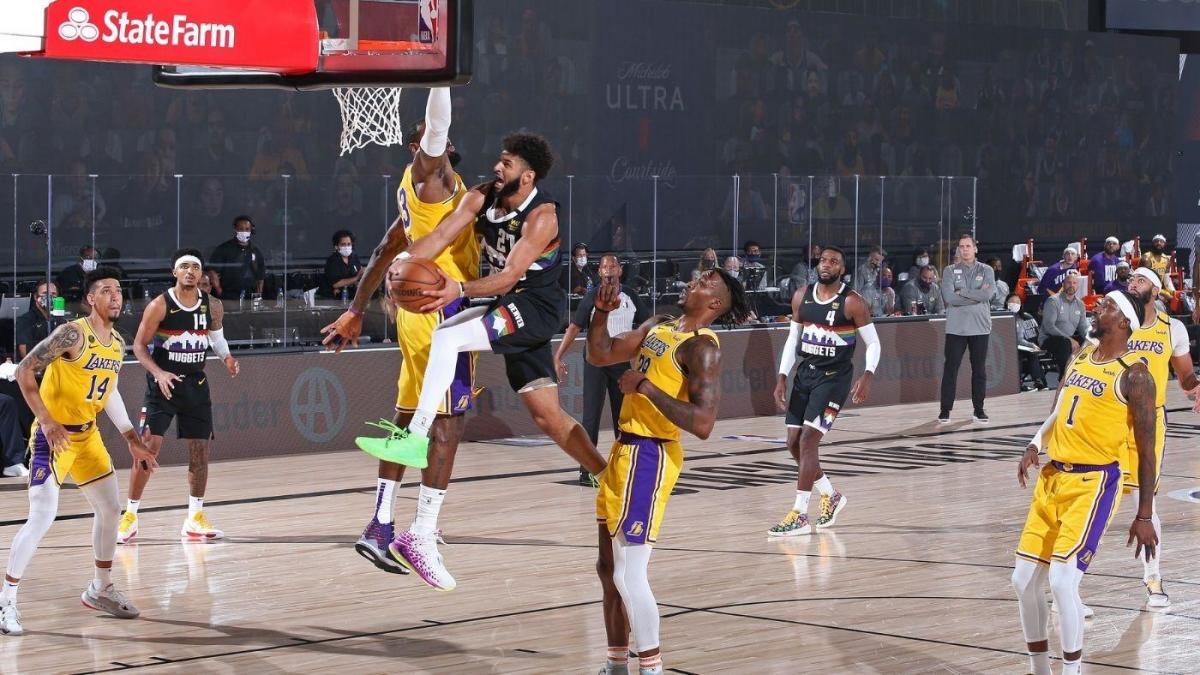 Lake Show Shines
The Nuggets as a team shot very efficiently at 50.6%. There were three role players in double figures, including another solid performance from Jerami Grant. However, an area that Los Angeles had Denver beat was rebounding.
Dwight Howard's first start in this postseason proved to be the right decision by head coach Frank Vogel. Howard finished with a double-double, 12 points, and 11 rebounds. Not only was he a substantial presence on the boards, but he was also a +7 in the game, easily making this one of his most efficient and pivotal performances in the Lakers' playoff run.
Although Howard became the surprise catalyst, the Lakers were still led by the Anthony Davis-LeBron James dynamic duo. The two superstars combined for 60 points on 17 made field goals.
Davis is showing how much of a versatile player he's becoming. A lot of his shots were falling from mid-range opportunities he's creating. AD is expanding his game to the point where he's becoming a threat from virtually anywhere on the floor instead of just the low post. This development is something Denver must be able to contain moving forward, as he's their main engine on offense.
Denver's Comeback Season Continues?
Nuggets' head coach Mike Malone notices that there are many adjustments to be made if they want to keep their season alive. He did not hesitate to be highly critical of his players. Malone stated after the game, "There were too many breakdowns…If you can't help us on the defensive end, then maybe you shouldn't be on the floor…We had too many empty possessions on that end tonight."
Even though there are frustrations, this is a position that his team is comfortable in due to heavy exposure in these playoffs. After being down 3-1 against the Jazz and Clippers, not only did the Nuggets level up in every aspect, but they quickly turned from the dominated to dominating.
If they want the 3-1 three-peat comeback, they must hold the lead past the third quarter. The Lakers are 52-0 when having the lead heading into the final period, which is why they are the number one team in the West and favorites to win it all.
Murray expects his team to attack this with the "same approach" they did previously. He wants them to give themselves a chance, regardless of their unwanted outcomes.
Although this is the same position they've overcome multiple times, this is the toughest go around to do so again.
Game 5 is on Saturday.