By: Zachary Draves
Malcolm X said it best. He proclaimed: "the most disrespected person in America is the black woman." Soon, think about Breonna Taylor and her role.
He said that back in 1962 and sadly, those words are still valid today and have been since the "founding" of America.
From the auction blocks during slavery to the state-sanctioned segregated facilities during Jim Crow to the aggressive policing tactics in the era of Mass Incarceration, black women have had to bear the brunt of the intersecting oppressive systems. They include white supremacy, sexism, misogyny, classism, homophobia, transphobia, xenophobia, and what Dr. Moya Bailey calls "misgynoir," which is a bias against black women based on race and gender.
These systems operate within every American institution. The systems include education, health care, criminal justice, the workplace, the military, mass media, and sports.
Black women are relegated to the background even when it came to the struggle for racial justice. These thoughts lead us to Breonna Taylor's death.
(Courtesy: Rolling Stone)
Equal Call
As those with good consciousness voice the call for justice for Ahmaud Arbery, there needs to be an equal effort to call for justice for Breonna Taylor.
She was an EMT, on the frontlines of the COVID-19 pandemic in her home state of Kentucky. A police officer shot and killed her. He broke into her home at midnight, and someone suspected that she was involved in criminality.
(Courtesy: Vox)
There is a long history of the criminalization of black men and boys.  American institutions and culture similarly criminalize black women and girls.
Usually, when there is a call to action in the aftermath of a police shooting of a black person, it is when a black male generates media coverage. IF it is a black woman or a black trans woman, it is generally an afterthought.
That is why All Black Lives Matter.
The humanity and dignity of black women need to be upheld and respected, which leads us to the world of sports.
Renaissance
The last few years have seen a cultural and political renaissance among black women. They demand society validate their lives. They demand that America hears their voices and that they obtain positions of power.
That is evident in politics with the rise of Stacey Abrams, Kamala Harris, Lauren Underwood, Johanna Hayes, Ilhan Omar, and Ayanna Pressley.
On the stage at Coachella with Beyoncé's Black Girl Magic homecoming.
Megan Markle's ascendance to royalty.
Tarana Burke following the tradition of black women tackling sexual violence culminating in #MeToo.
Cardi B, Megan Thee Stallion, FM Supreme, and Lizzo reigniting a black female revolution in Hip Hop.
Sports became the next public platform.
Dating as far back as 2016, beginning with WNBA players Maya Moore, Tamika Catchings, Swim Cash, and Tina Charles, black female athletes are leading the fight for equality and justice.
They did so before Colin Kaepernick took a knee.
Since then, there have been notable examples of black female athletes, cis and trans, that have taken the political ethos of Ella Baker, Fannie Lou Hamer, Coretta Scott King, Betty Shabazz, and Angela Davis.
The one and only Serena Williams, always socially active, began to advocate on behalf of black mothers. They are dying at an alarming rate from maternal mortality.
(Courtesy: Becauseofthemwecan.com)
(Courtesy: National Women's Law Center)
She did so stemming from her pregnancy that could have been fatal.
Serena lent her voice and her resources to stamping out systemic bias in medical care.
Athlete Heroes
At the 2018 U. S. Open, she famously called out the umpire during her finals match with Naomi Osaka.  She explicitly called out the double standard for how authorities treat male and female players.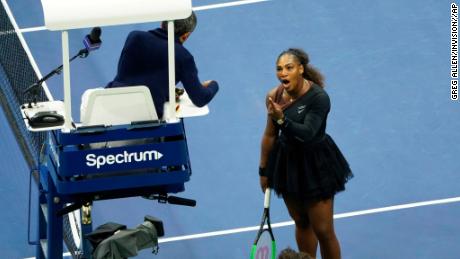 (Courtesy: CNN)
She was standing her ground for herself and other black women.
Naomi and Coco Gauf became tennis sensations in their own right and are now the new generation of black women succeeding on the court. They stay true to themselves and take pride in their blackness.
(Courtesy: EssentiallySports.com)
WNBA star Natasha Cloud of the 2019 champion Washington Mystics became actively involved against gun violence. She called for a press blackout to keep the spotlight where it should be, on the 30,000 plus lives that gun violence ends every year in the United States.
(Courtesy: The Undefeated)
Olympic track legend Allyson Felix followed in Serena's footsteps. She shared her story of a difficult pregnancy where she was subjected to racial bias and testified before Congress and did a recent Instagram Live chat with Senator Kamala Harris on Black Maternal Mortality.
(Courtesy: People.com)
(Courtesy: The Undefeated)
She also challenged Nike on their maternity leave policies and took control over her destiny to secure her and other women's right to a balance of life.
Icons
Simone Biles became an icon. She is now the face of US Gymnastics and spoke her truth about surviving sexual abuse at the hands of Dr. Larry Nassir. During an international competition, she wore a teal leotard in honor of sexual abuse survivors and solidified that she and other black women are here to stay.
(Courtesy: Time Magazine)
Andrya Yearwood, Terry Miller, and CeCe Telfer broke barriers as black trans women who succeeded in track and field. Even in the face of tremendous racialized transphobia and ridiculous lawsuits, they held firm to their right to compete. We much need their visibility at this time when cowards murder black trans women indiscriminately.
(Courtesy: The Advocate)
(Courtesy: OutSports)
Maya Moore took two years off from the WNBA to advocate on behalf of Johnathan Irons. He is a black man who authorities wrongly convicted for a crime he didn't commit. They released him from jail earlier this year.
(Courtesy: The Washington Post)
More Heroes
Nneka Ggwumike of the LA Sparks and president of the WNBA players union was the guiding force behind the historic deal reached by the players and the league that gives the players a greater share of the profits earned as well as long overdue health and personal benefits.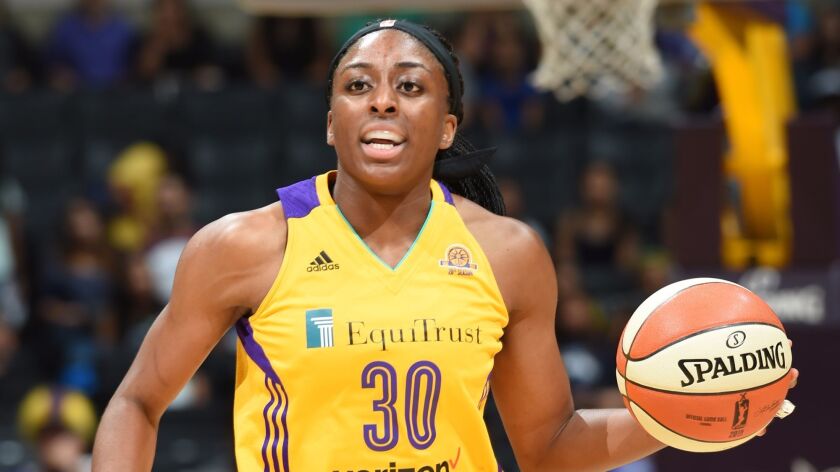 (Courtesy: LA Times)
Olympic fencer and icon Ibtihaj Muhammad was one of the breakout stars of the 2016 Olympics and also came out as one of the most outspoken and passionate advocates for justice and equality, particularly for Muslim women.
(Courtesy: Rolling Stone)
(Courtesy: The New York Times)
She has remained a tireless supporter of many of the most worthy causes of our time.
The point is that the murder of Breonna Taylor should remind us what America often forgets. We forget that the lives of black women and girls are under assault and their humanity deserves recognition and protection.
We can look all around us to see that black women are leading the charge as they always have for America to live up to its promises.
And these and many other black women in sports have played and significant part.
We need to listen to and support and call for justice whenever a black female life is assaulted.
Rest in Power Breonna Taylor.
#SayHerName.