By: Jaso Ollie
With the Coronavirus having us cooped up in our homes with no sports to watch, I think this is the best time to login into your WWE network account and binge watch some of the best pro wrestling pay-per-views ever aired. During grade school, I was a huge WWF attitude era (1997 – 2002) fan growing up.   My dad had one of those illegal cable boxes so I watched just about every wrestling pay-per-view growing up. So I am going to give you my list of 5 pay per views you should watch on the WWE network. In no particular order let's go through these….
WWF Summer Slam 1998 – This event is one of the best pay-per-views of the era. This took place in the world's most famous arena- Madison Square Garden- and did not disappoint.  The Rock and Triple H put on an epic ladder match with Stone Cold and Undertaker had a battle for the ages.
The Card:
Too Much vs LOD 2000
Gangrel vs Dustin Runnels
The Disciples of Apocalypse vs Bradshaw and Vader
D'Lo Brown (c) vs Val Venis
The Oddities vs Kaientai
X-Pac vs Jeff Jarrett
Edge and Sable vs Jacqueline and Marc Mero
Ken Shamrock vs Owen Hart
The New Age Outlaws (Billy Gunn and Road Dogg) vs Mankind (c)
Triple H vs The Rock (Ladder match)
Stone Cold Steve Austin (c) vs The Undertaker
ECW Heat Wave 1998 – This is by far one of the most action-packed pay-per-views on the WWE network.
The Card:
The Hardcore Chair Swingin' Freaks (Balls Mahoney and Axl Rotten) vs The F.B.I.
Justin Credible vs Jerry Lynn
Chris Candido vs Lance Storm
Masato Tanaka vs Mike Awesome
Rob Van Dam and Sabu vs Hayabusa and Jinsei Shinzaki
Taz (c) vs Bam Bam Bigelow
Tommy Dreamer, The Sandman, and Spike Dudley vs The Dudleys
WCW Spring Stampede 1999 – You can't have a pro wrestling list without at least 1 WCW event. To me, this is the last great pay-per-view by WCW in the Attitude era of wrestling. The 4 corners match was one for the ages putting an underrated wrestling superstar over the top in the main event.
The Card:
Juventud Guerrera vs Blitzkrieg
Bam Bam Bigelow vs Hak
Scotty Riggs vs Mikey Whipwreck
Konnan vs Disco Inferno
Rey Misterio Jr. (c) vs Billy Kidman
Chris Benoit and Dean Malenko vs Raven and Perry Saturn
Scott Steiner vs Booker T
Goldberg vs Kevin Nash
Diamond Dallas Page vs Ric Flair (c), Hollywood Hogan and Sting
WWF Royal Rumble 2000 – We head back to Madison Square Garden in New York City for another instant classic. From top to bottom this was a phenomenal pay-per-view. In my eyes, one of the best Royal Rumbles the WWF ever produced. 
The Card:
Tazz vs Kurt Angle
The Hardy Boyz vs The Dudley Boyz
Chris Jericho (c) vs Chyna (c) and Hardcore Holly
The New Age Outlaws vs The Acolytes
Triple H (c) vs Cactus Jack
Royal Rumble Match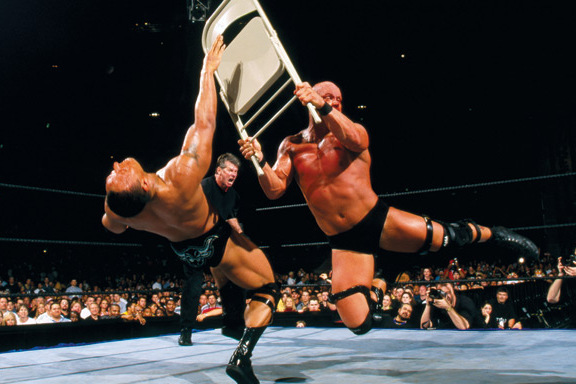 WWF WrestleMania X-Seven – This was by far one of my favorite WrestleMania's to watch. The event to me put the cap on the Attitude era. The Rock and Stone Cold's entrance alone in front of 67,000 plus fans at the Astrodome are worth the watch.   
The Card:
X-Factor vs Steve Blackman and Grand Master Sexay
Chris Jericho (c) vs William Regal
Tazz and The APA vs Right to Censor
Kane vs Raven (c) and Big Show
Eddie Guerrero vs Test (c)
Kurt Angle vs Chris Benoit
Chyna vs Ivory (c)
Shane McMahon vs Mr. McMahon
Edge and Christian vs The Dudley Boyz (c) and The Hardy Boyz
Gimmick Battle Royal
The Undertaker vs Triple H
Stone Cold Steve Austin vs The Rock (c)
Honorable Mention:
ECW One Night Stand – In 2005 ECW came back for a reunion show. A must watch for any old school ECW fan.
WCW Starrcade 1999 – This is a loaded card for WCW and I'd say one of the best PPVs from WCW in the late 1990s.
WWF King of the Ring 1998 – This was the event where Mankind was thrown off the top of the Hell in A Cell by the Undertaker in a classic WWF Match. Also closing out the PPV was Stone Cold vs Kane first blood match. 
WWF Survivor Series 1997 – A classic PPV dubbed as the Montreal screw job by Vince McMahon during the Main Event of Bret Hart vs HBK.
WWF WrestleMania 14 – This PPV was always one of my favorites because this event marked the beginning of Stone Cold Steve Austin becoming a Main Eventer in WWF.
ECW Anarchy Rulz 1999 – Another peak ECW PPV that is a must-watch.
Everyone have a great day we will all get through this. Please take care of yourself and each other. – BullyTheLine