By: Jeffrey Newholm
As NBS' women's basketball guy, I felt compelled to say something about the outrageous video recently posted by ex NBA player Gilbert Arenas. As one of my professors said, there IS such a thing as bad publicity, and this video gave my sport it in spades. Featuring two ridiculously scantily clad women playing hoops, the video makes three main points: A) women basketball players are not very good looking B) women's basketball is not successful, so C) we should either turn the sport into another lingerie league or just quit, I guess. I'll cover all three points, but I'll start by saying even if we concede points A and B, C still wouldn't follow. But some quick disclaimers first.
"No woman, professional ball player or not, would ever have the audacity to post (honestly, probably not even think about) degrading an entire sport or any other profession (let alone at the most elite level!) to sexualization and NOTHING more" -San Antonio Stars and WNBA newcomer Samantha Logic
"Women were not put on this earth just for men to look at. We are people. We have a purpose. We are role models. I am an athlete first and foremost. #ByeGilbert" -2015 WNBA MVP Elena Delle Donne of the Chicago Sky
"What I just read from Gilbert Arenas is absolutely disgusting & I'm ashamed that ppl are agreeing and laughing at it! #growup #hemakesmesick" -Washington Mystics star Steffanie Dolson
So yes, as you might expect the players are speaking out against this. But why say anything at all might one ask? Aren't we just "feeding the trolls"? Isn't this just playing into Arenas' hand? I understand that sentiment and some losers just say dumb things to get a reaction, but when a high profile athlete makes this kind of statement, we can't just stand idly by or else we would be giving tacit consent to those comments. I also want to caution us not to go after Arenas himself. Yes he's a knucklehead, so much so the Magic had to amnesty him (basically pay him not to play). But that's beside the point. In argumentation, going after someone's character rather than the actual argument is a fallacy called ad hominem. How much of a loser Mr. Arenas is or isn't is besides the point. The point is what he said, and how widely his sentiments are shared by the fans. So with these disclaimers aside, I'll move into each of his three points:
A) Women Basketball players aren't very good looking
Believe me this is a complaint not solely held by Mr. Arenas. I remember one fan on Facebook said this April, "Well that Breanna Stewart is a great basketball player…but she sure is ugly!" Now first of all, when these players are at a social event, such as the Final Four banquet or a visit to the White House, I think they look just fine,thank you very much. But sometimes players don't look the prettiest when they're playing the game they love. But why do they have to? I like to watch these games because it's entertaining basketball, not because the players look hot. There's plenty of places on and offline to see pretty women in little or no clothing. What really disappoints me is that even those ostensibly supporting women's sports put too much of an emphasis on beauty. Consider SI's (of swimsuit edition fame)  sportsperson of the year cover this week: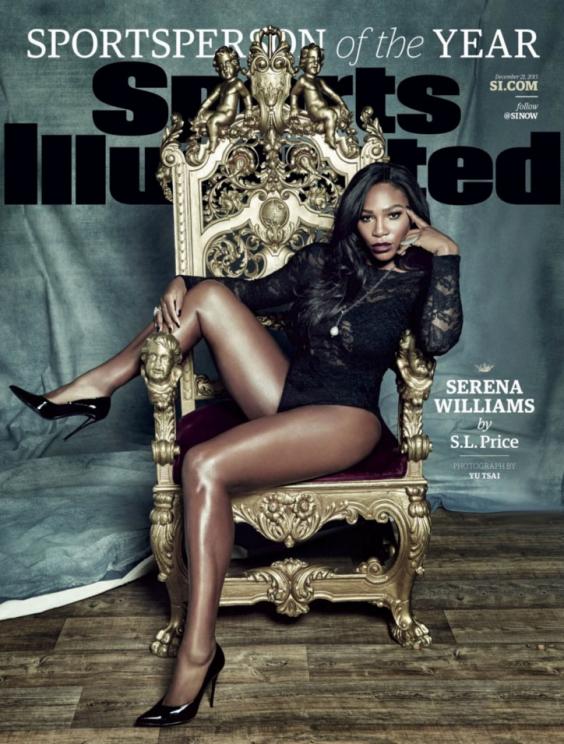 Now to be clear: Serena herself agreed to the photo and many women's sports fans don't have a problem with it. And certainly it's great that a dominant female athlete can look so dazzling at the same time. But in my opinion, we're sending the wrong message to young female athletes and also setting up unrealistic expectations. Not every athlete can look as good as Serena, or have the (likely) benefit of Photoshop. And very few can look this good while actually playing a game. If WNBA players were in their underwear adorned in gaudy makeup and jewelry, do we really think they could play as well? So to summarize this point: female athletes aren't necessarily ugly, and even if they aren't as pretty as they could be, why should we care?
B) Women's Basketball is not successful
Now it may seem that one would be hard pressed to disagree with Mr. Arenas here. There are only 12 teams in the WNBA, many of which are poorly run, and many NCAA schools have a team because of Title IX, but don't have a commitment to actually further the interests of the team. The lack of parity in NCAA Women's basketball is shocking, really. Notre Dame has been to five final fours in a row, and this is only the second longest active streak! But my response to this is that this sport is still relatively young, and no league got worldwide acclaim overnight. Only two of the NFL's charter teams (the Bears and Cardinals) are still around today. The Packers, Redskins, Giants and Bears took up 23 of the first 24 spots in the NFL championship game. In men's basketball, John Wooden's Bruins won nine out of ten titles and seven in a row. We're not the only sport that lacked parity in the beginning! If one makes the mistake of looking through the snide comments and replies when a major sports account makes a post about women's sports it's heartbreaking, yes. But there really is good coverage if one knows where to look. The Player's Tribune had some excellent articles during this year's WNBA playoffs. ESPNW's writers do outstanding coverage of all women's sports and especially basketball. The popular women's basketball Twitter feeds such as Hoopsfeed and Swish Appeal do a good job of covering everybody, not just the elite teams. And you know what? Even if we never become as popular as the alphabet soup of men's sports leagues, do we really want to live life as a popularity contest anyways? Basing happiness on external factors such as popularity, as Buddhism teaches, is not the path to a fulfilling life because we place our well being on circumstances outside our control. If we instead measure our success by our values and how we're viewed by our (actual) friends and teammates, I think this is a more enlightening path than worrying about the number of likes or followers we have.
C) We should turn women's basketball into a lingerie league or just quit
Now for the sake of argument let's agree that women's sports will never be successful and the players really don't look good at all. So should we just give up? HELL NO! There is so much I like about women's sports that has nothing to do with their looks or popularity. So many men's athletes, and I'm sure you can think of your own examples, run into trouble with the law or are caught breaking the rules for competitive gain. The vast majority of the time I see a women's basketball player in the news it's for something positive, like Tina Charles giving away half her salary every year or Elena Delle Donne winning another community leadership award. Yes, there are some high-profile cases of female athletes doing bad things. No sport is without their bad apples, but I find it remarkable how less frequently I come across these stories when it comes to women's sports. There's so much more to women's basketball players, or any woman for that matter, than what you see on the surface. Our society may not recognize that today, but some day I hope we all come to understand this basic truth of life. This kind of attitude about women in society needs to be changed by all of us who care, one heart at a time.
You can follow me on Twitter @JeffreyNewholm and our blog @NutsAndBoltsSP.