By: Jeffrey Newholm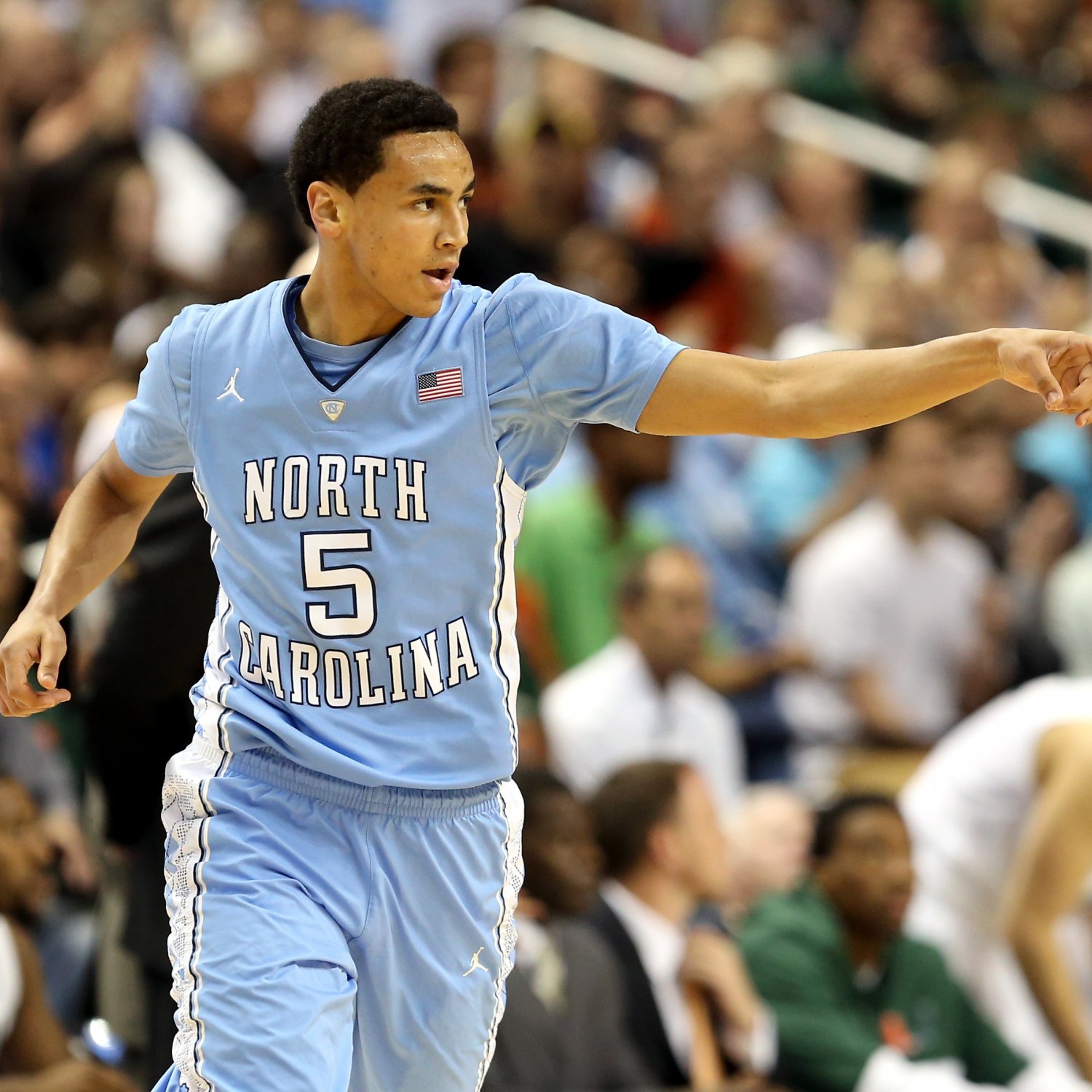 Credit: Getty Images
Historically, the ACC has been dominated by North Carolina and Duke. This year, the two highest ranked teams going into this season are…North Carolina and Duke. But if one takes more than a token look at the conference, there are plenty of teams that can challenge for the title, most notably Virginia and Notre Dame. But to cover all scenarios in this unpredictable sport, I'm going to preview every team in descending order of the media poll. It's probably not too big of a surprise to see that the pick to win the conference was…
North Carolina Tar Heels
The Tar Heels have won the conference 29 times previously and considering they are the #1 team in the national AP Poll, they are a sensible pick to win the ACC. The team brings back four starters from last year and five-sixths of their scoring, including co-preseason ACC player of the year Marcus Paige. There may be a bit of a learning curve for this team, however, as Paige is out three to four weeks with a broken hand. But the team shouldn't struggle too much as Kennedy Meeks and Brice Johnson round out a rare trio of returning upperclassman for the Heels. For those tired of teams loaded with one-and-dones, North Carolina is the team for you.
Virginia Cavaliers
Tony Bennett's first four years in Charlottesville may not have been too much to phone home about, but the Cavilers suddenly became a power in the 2013-2014 season and have won the ACC regular season title each of the last two years (although that success has not continued into the tournament yet). The Cavs will certainly have a chance to rectify that shortcoming this season with 12 players coming back, including three upperclassman starters. Foremost among them is co-preseason player of the year Malcolm Brogdon. Brogdon led the team in scoring last year and was named co-defensive ACC player of the year (which surely pleased Bennett). Virginia may not play the most entertaining style of basketball, but the won-loss column is what really counts, and under Bennett you can't fault them there.
Duke Blue Devils
When a team loses four starters off a national championship team, including three one-and-done freshmen, a rebuilding year would figure to be in order. But the top programs in college basketball never rebuild, they only reload. With four highly coveted recruits in this year's class, Duke figures to be right in the mix for the title yet again under legendary coach K.  Most important among them is point guard Derryck Thornton, who reclassified to the class of 2015 this April and figures to start immediately.  The freshman who didn't jump to the NBA last year, Grayson Allen, had his coming out party in the title game. He figures to have more playing time this year and will be called upon to mentor the next wave of freshman, even though he is an underclassman himself. This team is talented on paper, but can they put it all together come tournament time or will the Blue Devils experience another shocking opening weekend loss?
Notre Dame Fighting Irish 
Notre Dame's men's basketball team is in an unusual situation in that it is overshadowed by both the glamorous football team and the women's basketball team, who has been to five Final Fours in a row. But under longtime coach Mike Brey, this team is beginning to make a name for itself. Last year the Irish advanced to the Elite eight for the first time since 1979 and had a shot at the buzzer to do the unthinkable and knock off unbeaten Kentucky. It will be difficult for the Irish to duplicate that run with seniors Pat Connaughton and Jerian Grant gone, considering the two combined for 3,200 points and over 1,000 rebounds in addition to being veteran leaders. But the other three starters are returning upperclassmen who will be looking to create legacies of their own. Did the 2015 season mark a turning point for the underappreciated Irish, or was it just another "one shining moment"?
Credit: USA Today Sports
Miami Hurricanes 
A new excitement permeated the air in Miami when longtime successful George Mason coach Jim Larranaga was hired in 2011. But after an extremely successful 2013 season, the Hurricanes are yet to return to the big dance. The good news is with four starters coming back from a team that made the NIT finals, including three seniors, the 'Canes could rekindle some of that enthusiasm. Most notable among them is Angel Rodriguez, who is in his second year with the program after playing his first two seasons at Kansas State. He had a sensational sophomore year at K-State, but was merely good last year. Can he step up his game in his defining year?
Florida State Seminoles 
The Seminoles may be coming off an unimpressive 17-16, 9th place finish last year, but with all five starters coming back the team is in contention to return to the big dance for the first time since 2012. Xavier Rathan-Mayes is back after a stellar freshman campaign where he set the school rookie scoring record while being named freshman All-American honorable mention. He and three senior starters will attempt to have their own success, while also nurturing one of the most heralded recruiting classes in the country that includes four highly ranked freshmen and a junior college all-American transfer in Benji Bell. The Noles probably aren't ready to contend for the title yet, but this is definitely a team to watch in the coming years.
Louisville Cardinals
The Cards are shockingly low in this poll considering their level of success under coach Rick Pitino, but it's probably for the best considering the extremely serious recruiting violations the program is alleged to have committed. However, there are plenty of reasons to believe the Cards will not only be better than anticipated, but potentially be in the mix for the title as well. While Louisville does lose four key players from last year, the team adds two talented graduate transfers in Damion Lee and Trey Lewis. Lee was the fourth leading scorer in the country at Drexel last year, while Lewis was first team all-Horizon league at Cleveland State. When one adds in one of the best recruiting classes in the country, this team could be severely underrated. But can this collection of talent be formed into a cohesive whole, or will it be a (very) rare down year for Pitino's team?
NC State Wolfpack
Last year the Wolfpack pulled one of the biggest upsets of the tournament, knocking off #1 seeded Villanova in the round of 32.  The program's best years are clearly ahead of them with only one senior on the roster. Three starters are back who will all have at least two years of eligibility left, but hopes for the 2016 season were dampened when Trevor Lacey chose to forgo his senior year and enter the draft (he went undrafted and is currently playing in Italy). With a lack of senior leadership on this squad, but plenty of young talent, this figures to be a building year for future success.
Syracuse Orange 
Syracuse is another historically strong program not expected to do very well. They are coming off an injury-riddled 18-13 record, and on top of that coach Jim Boeheim has been suspended nine ACC games for the dreaded "lack of institutional control". During this time Boeheim can have no contact with the team, which figures to be undermanned with only nine scholarship players. If the Orange want to contend this year, fifth year seniors Trevor Cooney and Michael Gbinije will have to lead in their coach's absence or else this team will be out of the race early.
Pittsburgh Panthers 
Last year Pitt went from having their usual good regular season and bad postseason to not making the playoffs at all.  But there is reason to think the Panthers could be flying under the radar considering they return four starters and 80% of their scoring. Juniors Jamel Artis and Michael Young represent the highest returning duo in the ACC, bringing back a combined 30 points per game. On top of that, senior James Robinson has a career 3.29:1 assists to turnover ratio, best in ACC history. Pitt could definitely surprise and finish in the top half of the conference, but can they avoid more postseason disappointment?
Wake Forest Demon Deacons 
From this point on these teams probably have very little chance of being contenders. The Demon Deacons are coming off a dismal 13-19 season in which it won only five conference games. The good news is that four starters are coming back, including seniors Codi Miller-McIntyre and Devin Thomas, who both averaged more than ten points a game. But Wake Forest is in the unenviable position of being in a good high-major conference while not having a well respected athletics program. It would take the Cinderella run to end all Cinderella runs in the ACC tournament to make the big dance, but certainly similar things have happened in this game.
Clemson Tigers
When the banner on top of the school website reads "2014 NIT Semifinalist", it's easy to tell that there are historically low expectations for the team. The Tigers followed that exciting year by finishing 16-15 last year without any postseason game at all save a first round exit in the ACC tournament. Junior Jaron Blossomgame did average 13.1 points a game last year, but no other returning player averaged double figures. In fact only one other returning player averaged even eight points a game. But hey, at least the football team is ranked #1.
Georgia Tech Yellow Jackets
When a team is coming off a three win conference year and hasn't had a winning conference record since 2004, expectations probably aren't going to be too high. But the Yellow Jackets should at least avoid finishing in the cellar considering they bring back senior Marcus Georges-Hunt, who averaged 13.6 points a game last season, and add graduate transfers Adam Smith from Virginia Tech and James White from Arkansas Little Rock, who both averaged double digit scoring last season as well. A good starting goal for this stuck in neutral program would be to finish in the top nine so they at least have one fewer ACC tournament game standing between themselves and an automatic NCAA berth.
Virginia Tech Hokies 
Last year the Hokies finished 2-16 in the conference and failed to win a single road game. There doesn't appear to be much hope for improvement in the short term considering there's only one senior on the team in Shane Henry and he averaged only 2.3 points a game last year. All is not lost as new coach Buzz Williams is still in the process of recruiting his players to the roster (including Khadim Sy in this year's class, rating as the #10 recruit in Virginia), but when there's a coaching transition a few down years are sure to follow.
Boston College Eagles
Considering the last few teams on this list don't look very good, it figures the team picked to finish last must really be something. The Eagles may have succeeded in finishing ahead of two schools last year, but with their top four leading scorers departing, including Olivier Hanlan to the NBA draft, even that modest level of success may be difficult to replicate. The only glimmer of hope for this team is that graduate transfer Eli Carter from Florida can carry the team on his back, but those expectations may be unreasonable considering he only averaged 8.8 points and 2 rebounds a game for a team that wasn't very good either.
You can follow me @JeffreyNewholm.
Be sure to follow @NutsAndBoltsSP and @bucketsanddimes for more sports updates.