by Henry Curi
The Eastern Conference Finals are set.  The last time the Miami Heat (no. 5 seed) and the Boston Celtics (no. 3 seed) have met in this stage, Jayson Tatum was in eighth grade, Jimmy Butler was riding the Bulls bench, Kemba Walker was a rookie as Charlotte Bobcat, and Brad Stevens was the head coach for the Butler University Bulldogs. Not to mention, both sides were also equipped with their super team rosters comprising of Paul Pierce, Ray Allen, Kevin Garnett, Dwayne Wade, Chris Bosh, and LeBron James. A 2012 rivalry has been reborn this postseason.
It's safe to say times have changed dramatically for these two franchises. But as both teams are playing their best basketball, it's difficult to foresee how the series will unfold or conclude in that matter.
Goliath vs Goliath
The Heat beat the best team in the league 4-1, as they completely dominated Giannis Antetokounmpo and the Milwaukee Bucks.
The Celtics took care of business in Game 7 of their series against the defending champions Toronto Raptors. With no Gordon Hayward at their disposal.
Both teams are young with elite coaching staff led by Erik Spoelstra and Stevens at the helm. Each has been able to accumulate valuable playoff experience with Spoelstra having the edge, winning two titles in the last eight years.  It'll be interesting to see the type of adjustments they'll make both offensively and defensively.
This will also be the first time in NBA history that there will be no number one or number two seed in the conference finals. If these playoffs weren't already crazy enough, both teams pulled off the improbable already.
Key Pieces
The player match-up is notable in itself as well. First-time all-star Tatum is averaging 23.4 points on 45% shooting from the field and 40% shooting from three. Also coming off of a crucial 29 point performance to close out the Raptors.
Butler has risen to a new level as well, becoming the heart and soul of Miami. The 30th pick in the 2011 draft is averaging 21.8 points on 47% shooting from the field and a highly efficient 50% shooting from beyond the arc.
Each side will be dealing with guarding key perimeter players. Sh that can light it up from three and easily give their team the advantage.
Rookie Tyler Herro and Duncan Robinson have proven to be lethal shooters for the Heat. But not just lethal, but also reliable down the stretch. Goran Dragic has been scoring 20+ in multiple games while Bam Adebayo is proving why he is an all-star himself.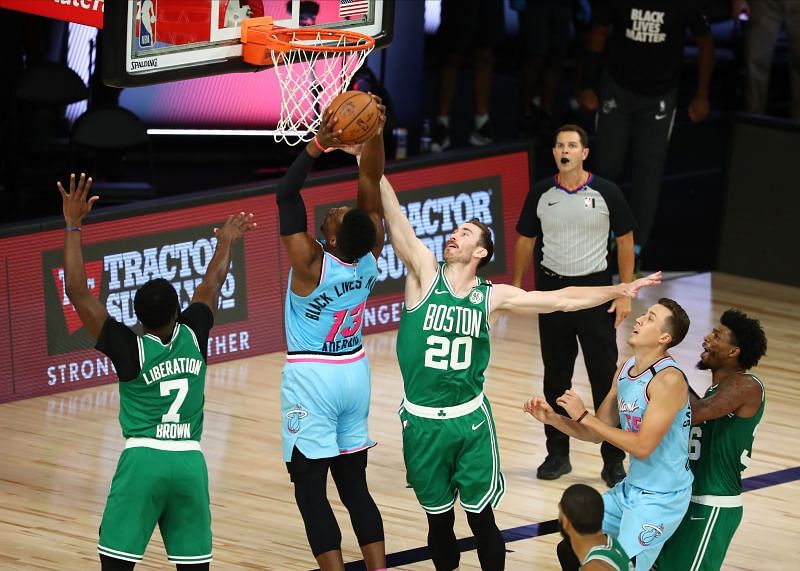 Walker and Jaylen Brown are two players that can get hot from three as well. Even though they've been struggling in that range as of late. But with Hayward potentially coming back from his ankle injury this series, they'll have another pivotal piece to their rotation. One that can spread the floor and score against Miami's stifling defense.
As analytical as one can be, it's generally tough to divide the two on what they need to do or avoid doing essentially. Both teams have a hustle grit to them that can play as the most essential intangible factor to decide this series. Fans will just have to wait and see who truly wants it more. Even if it did take almost a decade to get back to this match-up, it seems like it is worth the wait.
Game 1 is on Tuesday.