By: Jeffrey Newholm
In what's being billed as the final Manning-Brady bowl ever, this Sunday the Patriots and the Broncos will match off in the AFC championship game to see who gets to advance to Super Bowl 50. Since Manning's arrival in Denver this has become the premier rivalry in the conference considering the two teams have taken the byes the last four years in a row. Either Manning gets a chance to go out a winner or Brady gets a chance to win his record fifth Super Bowl title. I encourage you to listen to my quick take on the game on NBS' football show here (I come in at 32:30), but here I'll go more in depth so you don't miss a storyline in this titanic matchup. Like last week, I'll take a look at every position, then pick a winner (I actually picked correctly last week. For once.)
Quarterback
This is sure to be the most talked about matchup, but sadly it's pretty one-sided this year. But Manning doesn't need to outplay Brady to win, he just has to be competent. Taken as a whole, yes, Manning's numbers are awful. He threw twice as many picks as TDs, only throw nine TDs to begin with and, unthinkably, lost his job to Brock Osweiler. BROCK OSWEILER! But I don't think those numbers are fair. For much of the year Coach Gary Kubiak put Manning out there even though he wasn't healthy. Kubiak even admitted Manning shouldn't have started against the Chiefs when Manning's numbers were so bad they're unprintable. In his last two games Manning has put up numbers good enough to win, and that's what counts. 21 of 37 for 222 last week may not sound that great, but considering half those incompletions were drops and Manning didn't turn the ball over (while Pittsburgh had numerous boneheaded plays), Manning was just what this team needs-someone who takes care of the ball and doesn't give the game away. Brady has put up his usual Brady numbers-36 TD's, 4700 yards passing, etc. So certainly the Patriots have the edge here. But bear in mind 22 men will start Sunday, and only two of them will be quarterbacks.
Wide Receiver
Even with Denver's sub-par QB play Demaryius Thomas and Emmanuel Sanders have been superb, each recording more than 1,000 yards receiving and catching six TD passes. But certainly Manning needs more help than he got last week, when each receiver seemed to change his name to Butterfingers. Meanwhile the Pats had an ugly finish to 2015, losing to Philadelphia, the New York Jets and the Dolphins, none of which made the playoffs. Whereas Aaron Rodgers can make do with completely anonymous wideouts, Brady needs a good rapport with one to get into a rhythm. Without tight end Rob Gronkowski (more commonly referred to as Gronk)  and wideout Julian Edelman, the Patriots' offense was awful at the end of 2015-so bad Bill Belichick infamously  decided to kick off to start overtime against the Jets. But those two were back against the Chiefs, and Gronk had both of Brady's TD passes while Edelman was the team's only 100 yard receiver. All four of these guys are great football players, but I have to give the edge to New England as Brady's receivers have never known a QB other than him while Manning only started half the season and has had to reinvent himself even when he did start.
Running Back
Usually this is where I talk about each team's feature back, but the Patriots' rushing game is so bad I don't even know who to mention! Three backs had over 200 yards rushing for the Pats. Two of them are out for the season while the third had one catch for -3 yards last week and that was it. Steven Jackson led the team last week with six carriers for 16 yards, and half of that came in one "big" run. An offense doesn't get more one dimensional than that! C.J. Anderson and Ronnie Hillman both put up good numbers for the Broncos this season and Anderson was perfectly serviceable against Pittsburgh, averaging four yards a rush and scoring the team's only touchdown. No, there's not too much I can say about the backs Denver has available for this game. But at least I can say something! Denver has a HUGE edge here.
Offensive Line
Pass protection figures to be vital for the Patriots seeing as they have no viable running option, and the line held up well last week, not allowing any sacks. But, like the Pack last week, the unit remains the walking wounded with four players listed as limited participants in practice Thursday while Denver has no significant injuries at all. Manning was only sacked once against Pitt., and the two teams have only one sack separating their O-lines this season. Both teams have fared equally well here both throughout the year and in the playoffs, so I'll call this one a draw. Yes the Pats are beat up, but the Packers' line held up pretty well last week despite my concerns so I don't want to read too much into limited participation in practice.
Defensive Front Seven
The Broncos have the edge in rush defense, giving up only 3.3 yards a carry while the Pats give up an even 4.0. Both teams get after the quarterback well, with Denver recording 52 sacks and the Pats not far behind with 49. Rushing the passer is vital to upsetting the Patriots. In the Pat's stunning loss to the Giants in 2008, New York applied pressure on Brady from the very first play and prevented the Pat's offense from running away with the game. Since neither team's QB is very mobile, getting to the quarterback  will be a big edge for somebody. But I can't decide who it's going be right now.
Secondary
The Broncos have a significant edge here. There's only two picks separating the teams, but the Pats have given up 700 more passing yards and .9 more yards an attempt. Overall the Bronco's defense is better, first in the league in fewest yards given up while the Pats are ninth. The old adage that defense wins championships has certainly held true for Denver, the #1 seed in the AFC and still alive in the playoffs even with quarterback play that has been fair at best.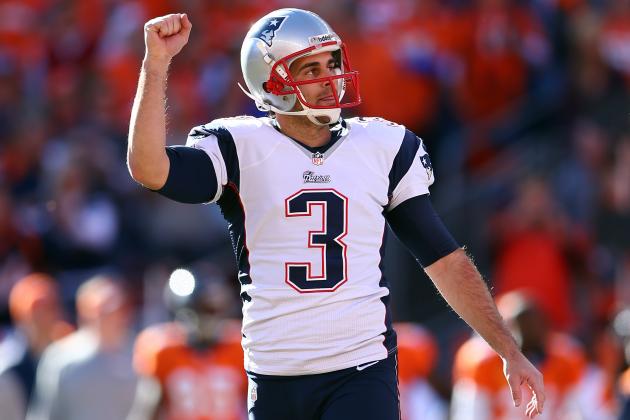 Special Teams
Both team's kickers and punters put up good numbers, but the Pats' kickers don't have the benefit of the high altitude that the Bronco's kickers have always had. With this game being in Denver, the coaches could easily call for a 50 yard kick and even a 60 yarder at the end of a half. Neither team has an edge in the return game, so I'm not going to make a prediction on who has an edge Sunday. That's not to say there won't be an edge, however. As the Vikings have found out multiple times, even the most reliable of kickers can become unhinged at the end of playoff games. The Pats'  Gostkowski or the Broncos' McManus could easily become the unexpected goat. We just don't know which one will be facing the big kick.
My prediction
In this week's podcast I predicted the Pats would win 21-13, and I don't see any reason to change my mind now. This is a great Denver defense, which was Brady's downfall in previous playoff losses. However those opponents also had a quarterback who could make big plays down the field, such as Eli Manning or 2014 Peyton Manning. I think 2016 Peyton Manning is a good caretaker quarterback, but he's not capable or willing to take the big shot deep downfield. The same could be said of Alex Smith last week, and when the Chiefs needed big plays and quick scores, their plodding offense took up way too much time. So I think the Patriots will do enough to win this game, with a little comfort. Yet again, however, I need to call out SI on their prediction shenanigans as Greg Bedard has picked the Pats to win by the preposterous score  of 42-17! NBS is no SI, but last week our predictions were worlds closer. And best of all our writing isn't behind a paywall.
You can follow me on Twitter @JeffreyNewholm and our blog @NutsAndBoltsSP.